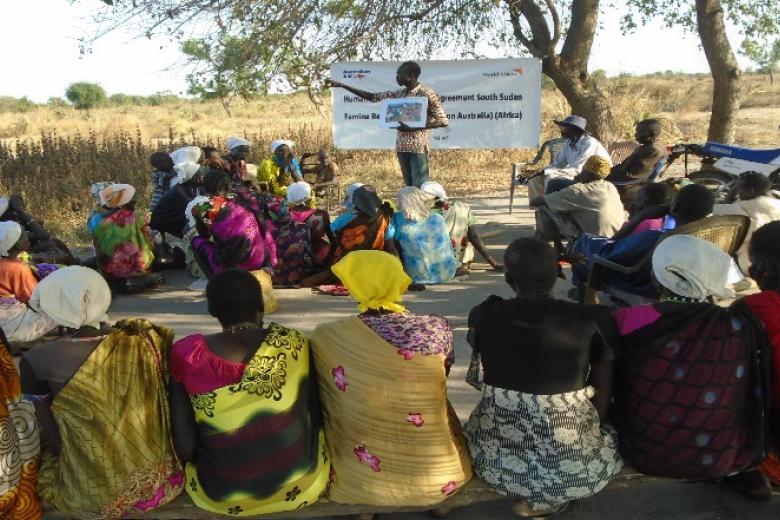 What does it take to prevent a cholera outbreak in a camp for the displaced?
Monday, July 2, 2018
"The people in the community were not aware what caused the cholera outbreak. Somehow, there was a general suspicion that the practice of open defecation was a huge factor", says Matiek Gatluak, a father of seven who is a member of the sanitation committee at Leer Temporary Protection Area (TPA) in Leer County, South Sudan. World Health Organization (WHO) reported the first cholera outbreak in Unity State on 2016 affecting 3,000 people.
Gatluak's family became internally displaced when intense fighting erupted in Leer county ,Southern Liech State. He adds, "My family got to the TPA camp with limited services. There was no means to find food and no sanitation facilities in place. It was a horrific situation I will never forget in my entire life."
When the cholera outbreak happened, it devastated families as majority who were hit the hardest were children, pregnant and lactating mothers and the elderly. "There were no latrines. Everyone just defecated openly around and made the condition worse. Stinky smell of human waste filled the air and flies were all over them", Gatluak recalls.
The humanitarian cluster for Water, Sanitation and Hygiene (WASH) composed of NGOs and Unicef in Juba requested World Vision to construct emergency latrines in Leer TPA. In collaboration with Universal Intervention and Development Organization (UNIDO), World Vision was able to act on the request.  Twelve shared-emergency latrines were constructed and marked with gender markers. Hand washing facilities were are placed on each of the latrine. Six of these latrines were dedicated to women to provide them safety and privacy.
This was also matched with a cleanup of the surroundings of the camp and the f training conducted on hygiene and sanitation methods to prevent further outbreaks of cholera and other communicable diseases. The safe disposal of wastes, proper hand washing and hygiene management were emphasized as a must during the training.
"It was not an easy project to implement. Bringing the construction materials required commissioning small planes to take them to Leer Countysince large planes bigger than 2 tonnes cannot land on the Leer airstrip. This was very expensive, as small planes can carry limited materials so it has to be done in several rotations. Hauling them by trucks cannot be done due to impassable roads and the danger on being hijacked by armed groups lurking along the way", Biruk Beyene Kebede, the project manager of Humanitarian Partnership Agreement (HPA)) South Sudan Response (Africa) project that was funded by the Department for Foreign Affairs and Trade (DFAT).
He adds, "But knowing that thousands of people's lives are in danger from diseases, we needed to act swiftly. We are also constructing both institutional and shared household latrines in Koch county in the same state by airlifting the materials from Juba.. Borehole rehabilitation is also part of our WASH intervention in Unity state to increase access to improved water source. The absence of markets in nearby areas and the continuing movements of the displaced due to frequent clashes also pose a continuing challenge for the project implementation."
Despite the insurmountable odds, Kebede said that the HPA South Sudan Response (Africa) project assisted close to 150,000 people, out of the planned 200,000, in Unity (Leer, Mayendit and Koch counties) and Northern Bahr El Ghazal (NBeG – Aweil South, Aweil North and Aweil East counties) States. The project has already constructed 94 latrines with a target of completing 200 in two counties including one in hospital and also rehabilitated five boreholes. Apart from WASH, the projec also provides assistance on food security and livelihoods, nutrition and protection, which includes raising awareness on gender-based violence.
After the new facilities were in place, there was a significant decrease of diarrhea cases and no cholera outbreaks reported again. "I am relieved because my children have not suffered from diarrhea anymore. I believe that World Vision's project helped us. It is also more convenient as we no longer have to walk to the bush and defecate", Gatluak says.
Kebede shares what it took for the team to get things done, "We have learned a lot by implementing this project in a very fragile context such as Leer and Koch, which taught us to be flexible, respond swiftly when the situation calms and cope with recurrent change of security situation. The success of the project is down to the continuous management support and the reliable partners we are working with such as World Relief and UNIDO."
People living with a disability and households that have a member with a disability were targeted to promote disability inclusiveness during project implementation. So far a total of 23 people with disabilities were identified and supported.
"There is no way we can apply the usual processes because of the circumstances in Unity state. In the end, we have proven that there is a way. What is important is that we are able to keep our mandate of helping save lives no matter how tough the situation we work in is", he concludes. 
Above: Women learn new farming techniques to help them grow vegetables, provide nutritious food for their families and at the same time earn extra income selling them in the local market.