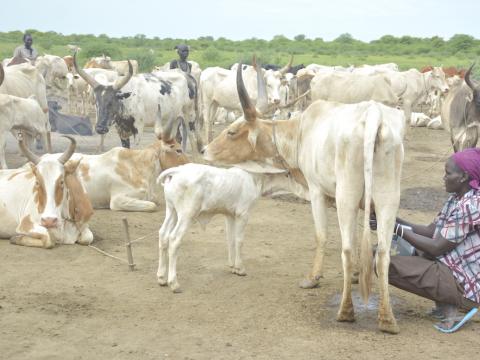 World Vision helps protect 304,900 livestock in Renk County to enable pastoralists to send children to school
Wednesday, September 19, 2018
By Lisi Emmanuel Alex, Communications Officer
South Sudan is blessed with different types of livestock ranging from cows, sheep, and goats to camels, donkeys, and horses in addition to poultry. However, the communities who own these animals still adhere to traditional ways of looking after the livestock where they shift from one location to another looking for pasture and water for the animals.
World Vision, in collaboration with State Ministry of Animal Resources in Upper Nile State, is training and equipping 82 community animal health workers to treat, vaccinate and deworm a total of 304,900 livestock in Melut and Renk Counties.
Livestock is the main source of income for many communities in South Sudan but their animals are frequently attacked by various types of diseases making it hard for parents to provide food for the children or pay for their needs such as school fees, food, clothes and other demands. World Vision is supporting the community through the ministry so that families will able to rear healthy animals.
The animal  health workers measure the exact weight of the cow so that they give the right doze of the medicine.
"The community animal health workers are expected to vaccinate more than 259,000 animals; 159,000 in Renk and 100,000 in Melut and on need basis treat and deworm an additional 45,900 animals in a period of 2 years," says Titus Makali, the project's manager. He added that the community animal health workers will also support in post-vaccination monitoring herds through collection of animal samples for laboratory testing and facilitate the post-vaccination surveillance, helping to monitor the effectiveness of the project.
Nazarene Gieth, World Vision's Food Security and Livelihood Officer, explains that the highest population of South Sudan keep livestock and supporting them will open ways for them to have a better market for the animals so that they are able to support their children.
Nyang, a 45 year old nomad, has 150 cows in a cattle camp (a place where livestock are kept) of 1500 cows. He says "We are 29 cattle owners in this cattle camp and each person herd the whole cows for a week before the next person." Besides looking after the livestock, Nyang is taking care of his two wives and six children. They live together at the cattle camp and they milk the cows every morning.
Dr.  Awad Hamid, the Deputy Director of Upper Nile State Ministry of Animal Resources inspects one of the cows in Renk during the vaccination session.
"We use to assume the treatment of our cows whenever they fall sick. We just go to the market and ask for Albendazol (a type of livestock medicine) for treating our cows and sometimes it can't treat them," Nyang added. "We do not have to worry anymore about our livestock getting sick because World Vision is helping us with the treatment."
Veterinary Dr. Awad Hamid, the deputy director for Animal Resource Northern Upper Nile State explains that the common types of diseases found in Renk are worms, diarrhea, sheep pox, contagious caprine pleuropneumonia (CCPP), Contagious bovine pleuropneumonia (CBPP - also known as lung plague), black quarter and ticks.
The pastoralists also have a separate place close to the cattle camp for keeping shoats safe. The animal health workers are shown vaccinating them.
"We have started introducing the community animal health workers to practical work of vaccinating and treating the animals in Renk and I am sure with the support from World Vision these people will reach far areas to treat the livestock" stressed Hamid.
Deng is one of the animal health workers in training. He says "We treat from 30 to 35 livestock every time we go out. The first time I was scared, I thought the animals would be aggressive but now I am gaining much confidence in this work."
"We want to work with the pastoralists treating their livestock so that they can settle and send their children to school. They are among the illiterate people of South Sudan," says Nazarene. "This project is improving household food security, nutrition and income and enhanced livelihood resilience of pastoral and agro-pastoral communities", he added.
Nazarene Gieth (left), World Vision's Food Security and Livelihood Officer, Deputy Director Dr. Awad Hamid anda trainee at the cattle camp for the treat process.
The project is funded European Union and supported by Food Agriculture Organization and World Vision New Zealand with a goal of improving governance and conflict prevention to reduce forced displacement and irregular migration in cross-border areas of South Sudan and give children a chance to settle and start education.
The project is targeting all the Payams (sub-counties) of Renk and Melut County in ensuring Trans-boundary Animal Disease (TADs) prevention, detection and control measures are in place.
It will also help the pastoral and agro-pastoral communities with food security and nutritious food so as to strengthen livelihoods and improve natural resources protection in cross-border areas for long term sustainability.
The animal health workers arrive at a smoky cattle camp. Daily, the cattle keepers burn the collected cow dung to produce heat for the calves and their children in the early hours of the morning.