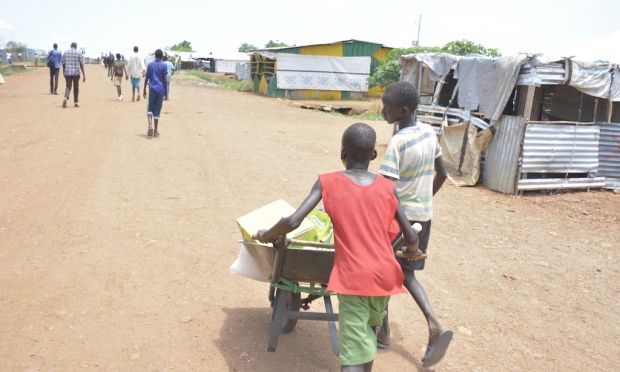 By Lisi Emmanuel Alex, Communications Officer, World Vision South Sudan
Many of the internally displaced people (IDPs) in South Sudan have been confined in one place for at least six years. One of such places of refuge is the Protection of Civilians (PoC) site located in Juba, its capital city. As a result, trauma is one of the many challenges faced by the IDPs, especially on children, which a UN official lamented as "indescribable".
With the increasing number of problems within the PoC, World Vision, in partnership with Solidarity with South Sudan, trained 257 church leaders, teachers, youth and community leaders on Psychosocial and Spiritual Support from communities affected by conflict. The training was aimed to empower the leaders in finding personal healing and assisting others to do the same. Further, it is hoped to avert violent incidents among the IDPs such as suicides, fights discrimination, stress and emotional disorders.
Rev. Peter Ret, the deputy head of St. Daniel Comboni, a Catholic Church located in the PoC said he observed many changes among the IDPs after the training. He said the number of people who have committed suicide has been drastically reduced and the rate of domestic violence against children and other family members have also decreased.
"The training helped us to forget about the war and forgive each other; some that we have kept in the heart for long," he added. According to Solidarity with South Sudan, the main symptoms of trauma among the South Sudanese include anger, aggression, shock, denial, disbelief, discrimination, stress, nightmare, emotional disorder, and withdrawal from others.
The collaboration trained representatives of the IDPs on positive coping strategies like focusing on most important needs and the needs of the family, doing manual work and exercising to make the body feel good, boost self-esteem, improve sleep and promote calm through music.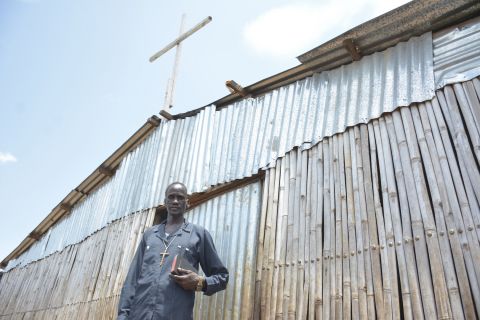 "After learning the skills, we started visiting families for counselling. We also started solving domestic disputes in the community. Before, neighbours quarrel over simple issues like children's fights where parents usually got involved. Now we are able to manage this because we also provide counselling to the children in schools," explained Rev. Peter.
Rev. Peter further said they came to understand that children who commit mistakes do not do it deliberately and that they were not aware it was wrong. "The knowledge I got gave me further understanding of children. Many people beat their children because they ask for something their parents cannot provide. Others always appear rude to the children forcing them to grow up more traumatized."
According to United Nations Children's Fund Report, more than half of South Sudan's children have suffered abuse, trauma, and hunger over the past four years of war. "We are requesting for more training to be conducted within the IDPs. The 257 trained people are not enough to handle this crowded population full of different traumatic conditions. With more trainings, many people will feel relieved from this hopeless situation", Rev. Peter clarified.
Maria is one of the women leaders at the PoC. She explained that she used to be emotional and often reacted badly to anyone. After attending the training she is able to control her temper and now applies the knowledge at home and wherever she goes.
Simon Puot, the 25-year old choir master at St. Daniel Comboni and one of the youth leaders who got trained added that due to the effects of trauma, youth use to fight among. He said, "We were given booklets at the end of the workshop and now we are using them to teach our fellow youth whenever we meet and I have seen a massive improvement in the behaviours of those youth we managed to talk to."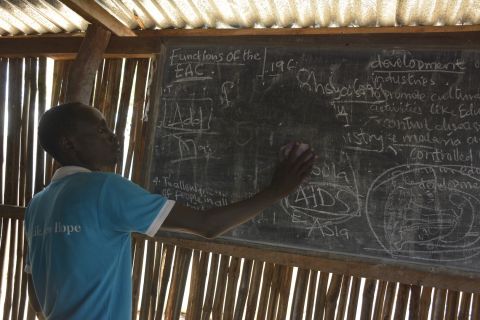 Puot is also a voluntary teacher in one of the primary schools and he teaches English. He said parents especially women who take much care of the children need to attend the same training so that they can raise good children.
Mayiel Gatkuuth, a resident at the PoC reiterated that he often reprimanded children at home after the workshop and he regretted using harmful methods like beating before. He, too, requested for more psychosocial counselling training because he has seen the impact of trauma on the population. He said, "The training helped us heal the wounds and learnt to avoid revenge because we realized from the training that revenge will never bring peace".
Simanga Ndebele, World Vision's project manager added that, "As a result of its positive impact World Vision plans to reach more communities in Juba as the current pilot was limited to areas with IDPS and some host communities. Overall the project realised positive gains in building the capacity of communities to deal with trauma."
According to Sister Barbara Paleczny, the Psychosocial Support Specialist working with Solidarity with South Sudan, it is very difficult to get an exact number of traumatized people in South Sudan because trauma happens in two different stages – the primary and the secondary.
She explained that primary trauma is the experience of one who has suffered or witnessed the violence or loss while secondary trauma happens to a person as a result of listening to or learning about other traumatic violence suffered by another person or others.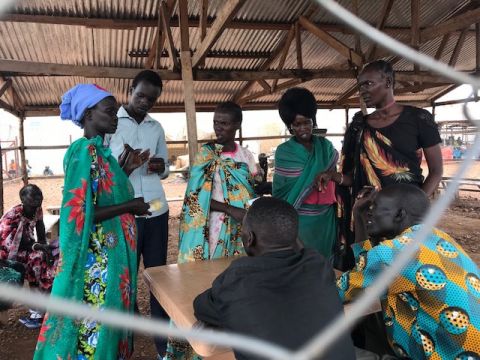 The UN-OCHA report released in 2017 says that although there is no formal death toll for the South Sudan conflict, tens of thousands of people were estimated to have been killed since December 2013 leaving almost every South Sudanese traumatized.
Sister Barbara further added that it is difficult to measure the total number of traumatized people in the country saying, "The truth is, most people are affected by trauma in the country. When I was conducting the workshop in the PoC, I started asking if who has headaches, be it few times or quite often. Their collective reply is, the whole group. I then asked if who has a stomach aches? Who has joint pains? Who have nightmares? They all said, all of us, all of us."
For the children, she added that they will suffer from intergenerational trauma. When parents and other people around the are traumatized, maybe even before the child is born because of the war, the feeling is communicated to the developing babies and once they are born, they can grow with the trauma.
South Sudan has an estimated 1.76 million displaced people, at least over 202,000 of them are in five UN Mission for South Sudan (UNMISS) Protection of Civilians sites. In partnership with the World Food Programme (WFP), World Vision is providing food assistance to 32,000 IDPs in Juba PoC.