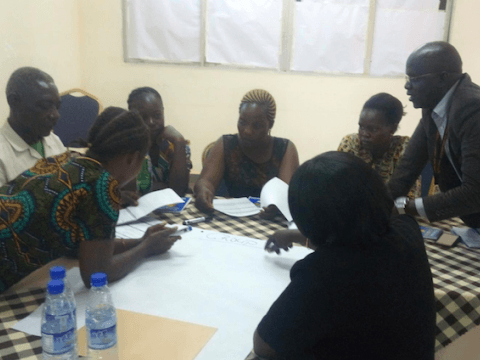 World Vision trains 133 civil society advocates for stronger grassroots partners and networks
Tuesday, January 15, 2019
"We are inspired by the efforts of the civil society groups and World Vision is committed to help build their capacity so they can strengthen the engagement in their own communities. The groups and their commendable efforts are key to South Sudan's progress", says Mesfin Loha, World Vision's Country Programme Director in South Sudan.
World Vision is implementing the Western Equatoria Civil Society Capacity Building Project (WECAP) which is a joint initiative with the Civil Society Facility South Sudan and Civil Society Organizations in the Greater Western Equatoria (GWE) Region. Many of the indigenous civil society organizations (CSOs) have challenges in capacity but they are the ones who have the ability to access the hard-to-reach areas in many parts of the region.
"The project addressed the critical capacity needs of CSOs in Yambio County such as lack of clear mandate, vision or strategic direction, weak programming, limited capacity to constructively engage with other sectors on development agenda or representation in policy and decision making and coordination. A mix of strategies were used including formal training, mentorship and coaching, technical assistance, and strengthening peer-to-peer learning", says Mawa Isaac, WECAP Project Manager.
To build stronger civil society groups, World Vision has trained 133 staff from seven organizations namely: Action for Peace and Development Organization (APDO), Consultation Centre for Empowerment and Welfare Organization (CCEWO); Self-Help Women Development Organization (SHWDO); Union for Struggle against HIV/AIDS and Poverty (USAHP); Community Organization for Peer Educators (COPE); Hummingbird Action for Peace and Development (HAPD) and Network of Civil Society Organizations in the Greater Western Equatoria Region.
"I have attended many training sessions on Strategic Planning, but I am greatly impressed and inspired by the approach used by World Vision, specifically WECAP, in making us take the lead in the development of our strategic plan. I have personally learned a lot. We will do our best to implement this Strategic Plan", says Rev. Fr. Jackson Bullen, Executive Director, APDO.
The trainings included Understanding Civil Society and Civil Society Set Up, Organizational Leadership and Governance for Civil Society Organizations, Project Design and Management; Financial Management, Board of Directors Leadership and Monitoring and Evaluation.
"The ongoing capacity building by World Vision is unique in that it is directly addressing our capacity needs as CSOs. Our capacity has greatly improved in terms of financial management, governance, proposal writing and developing our operational policies because of the support from the WECAP Project. We are now ready to apply for funding to different INGO partners or donors", says Wingba Benedict, Executive Director, CCEWO.
The project aims to enhance humanitarian programming and policy engagement capacity among CSOs in the region to improve organizational capacity for greater engagement and policy influence. World Vision's goal is to share its decades-long experience in humanitarian work to the groups, as well as community representatives, state and county authorities.
"Civil society is an important sector in the society. World Vision believes building a stronger civil society and strengthening local partnerships will not only deliver better development outcomes to local communities but also enhance their capacity to constructively engage with decision makers in their constituencies", concludes Isaac.