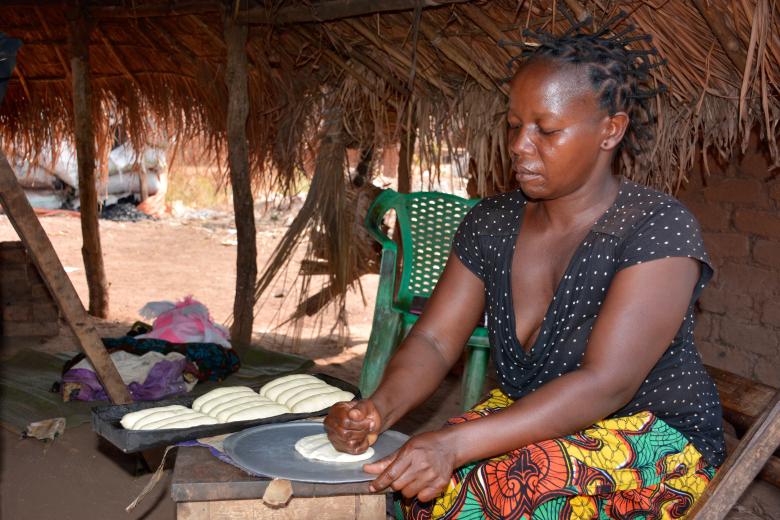 Agatha, a refugee who makes a living by making buns
Wednesday, March 8, 2017
With her one-month old infant lying on a mat next to her inside the makeshift structure, Agatha Mbundu expertly kneads the dough and cuts it into small pieces, which she rolls on a board until they take on a cylindrical shape and places them on a steel tray. When all the space on the tray is filled up, with about 15 rolls of the dough, she stokes the fire of the traditional clay oven and puts in the tray. Soon an aroma of freshly baking bread fills the air.
Agatha is one of the 4,000 refugees living in Makpandu Refugee Camp in Western Equatorial, South Sudan, most of who are from the Democratic Republic of Congo (DRC).
World Vision manages the refugee programme there and provides various humanitarian services including child protection as well as prevention and response to gender based violence, primary health care services, reproductive health care and treatment for people with HIV, education, water, sanitation and hygiene (WASH) services, care to people with specific needs such as the elderly and the disabled, in addition to livelihood and food security activities.
World Vision has a vocational training programme where the refugees get training for various skills and given starter kits for income generating activities.
Agatha, was part of a group of women who were trained by a partner agency on how to bake bread and World Vision provided them with starter kits which included clay ovens, baking sheets, utensils and plastic chairs. 
She makes about 500 buns every day and makes a profit of about 250 South Sudanese pounds (about US$ 25). In addition to the buns, Agatha makes tea, which she sells alongside the buns.
"With this money, I am able to put back some into the business and also assist in meeting family needs such as buying clothes as well as food to supplement what we get from World Vision. I also save a little," says the mother of three.
Agatha and her husband fled conflict in their home country of DRC and came to Makpandu in 2005.  Her husband is a casual worker at the World Vision health facility.
She hopes that one day the conflict in DRC will end so that they can return home. "I would love for my children to grow up in my home country," she says.