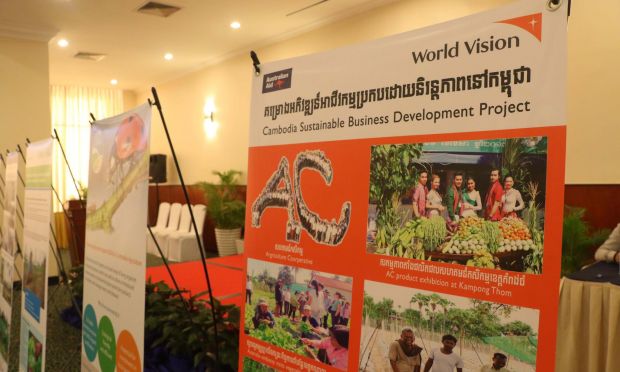 Phnom Penh – On October 20th, 2017,World Vision was a keynote presenter at Cambodia's Cambodian Vegetable Forum (CVF), organised by the Ministry of Agriculture and held at the CAMBODIANA Hotel.
The CVF Forum involved the collaboration of 157 participants from 27 NGOs and private sector organisations, who met to discuss and share their best practice ideas for vegetable production in the ASEAN region (Cambodia, Laos and the Philippine).
Dr. Hean Vanhan, Director of the General Directorate of Agriculture (GDA), opened the forum with an overview of 'Fostering a Safe and Sustainable Vegetable Sector' (FSSVS) in Cambodia, explaining how the event was an opportunity to network and learn from each other.
Dr Vanhan also shared a road map to increase vegetable production and contributed a support strategy to connect vegetables with the right buyers and to export to region countries that were not involved in the forum. Sharing this information and establishing a network will help Agricultural Cooperative members to effectively orient vegetable production toward market standards and demand.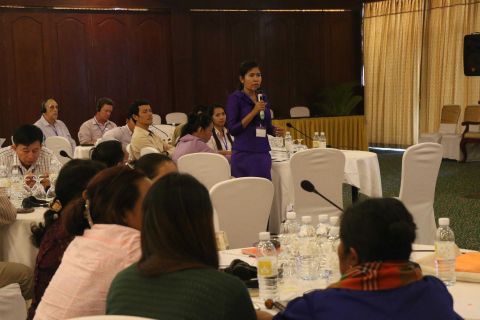 'The CVF was a great forum that brought together more than a hundred horticulture practitioners to discuss, share, and build networks that will create broader opportunities to promote local vegetables in Cambodia,' Thano Im said. 'It was impressive to see the government, NGOs, and private sector companies sit and work together to improve vegetable production and markets for Cambodian farmers.'
Mr. Simon Buckley, First Secretary of the Australian Embassy in Phnom Penh, remarked that World Vision and other organisations can build trust, transparency, and integrity by working in partnerships. The FSSVS Forum emphasised to all partners, including organisations in the private sector and NGOs, that building trust is the key to healthy partnerships that are better able to help communities develop.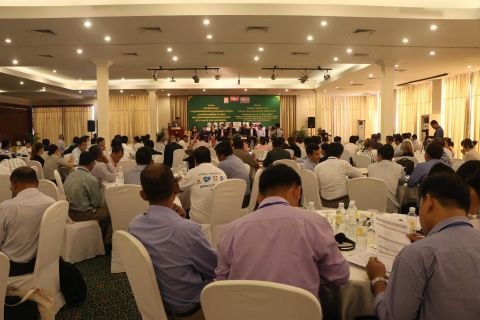 For example, through the support of the Australian Government's Department of Foreign Affairs and Trade (DFAT), World Vision's Cambodia Sustainable Business Development (CSBD) programme is being implemented with a combined budget of over USD 3.4 million, which will be used to improve market-led livelihood opportunities for poor farmers and youth in Cambodia. The goal of CSBD is to help 3690 active AC members from 38 ACs to improve their livelihoods and promote the well-being of children across three provinces by 2019.
The forum ended with a plenary panel discussion on what makes partnerships effective in the development sector. Key NGO leaders shared their experiences about effective and ineffective partnerships.
'A partnership with private sector companies is very important, as it will generate sustainable income opportunities for vegetable farmers,' Ms. You Malen, a manager with World Vision, said. 'It was a privilege to be a panelist at the CVF; I was able to share my knowledge of best practice and learn a lot myself as well'.
Overall, the FSSVS was a successful whole day workshop on building stronger connections with NGO partners and the CSBD programme in Cambodia. It will undoubtedly have a significant impact on the lives of Cambodian children, and improve health and education outcomes.