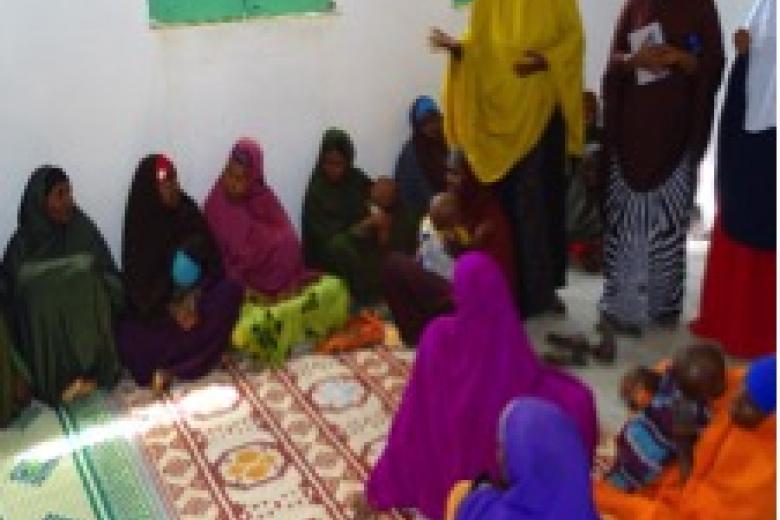 A Collaborative Approach to Health System Strengthening
Thursday, February 25, 2016
A World Vision senior team led by Country Director Simon Nyabwengi recently visited Daarusalaam Mother Child Health (MCH) facility located in Baidoa in Somalia's newly formed Southwest State. With funding from the Canadian Government and DFAT-D, World Vision in partnership with the Ministry of Health for the Southwest State has been able to provide basic health care services for almost 12,000 beneficiaries since June 2015. The range of services include immunization of children, treatment of common ailments, reproductive health care, therapeutic nutrition and referrals.
After 25 years of civil war, the status of public health services in southern Somalia have weakened to almost nonexistent. Emerging government institutions struggle to grapple with their mandates while lacking human capital, knowhow and funding to support even basic services.  With funding from DFAT-D, World Vision is assisting the newly formed Ministry of Health in Southwest State to put in place basic systems and staffing to support health care provision in two Danish Demining Group (DDG) constructed MCH facilities.  The World Vision team was keen to assess how World Vision's innovative approach to working with nascent government institutions was bearing fruit.
World Vision has been piloting this new approach in the hope of laying the groundwork for sustainable health care provision under the supervision and guidance of state institutions.  After a series of dialogues between the Ministry of Health, World Vision and Daarusalaam Community facility level management committee, it was agreed that health facility staff employed at these locations should be of the highest technical skill level available in the local market and that community members should welcome the best candidates, regardless of their clan linage.  World Vision provided the Ministry of Health with technical expertise and guidance helping to co-create a recruitment system, and adopting a rigorous testing mechanism for health facility recruits.  Finally, World Vision helped to broker an agreement between Ministry of Health officials and the local community concerning contract terms and promoted the establishment of a joint performance management system, ensuring that newly recruited health facility staff would be answerable to local community management committees and accountable to technical standards required by the ministry.
As the World Vision team toured the facility, the D.G. of the Ministry of Health for the Southwest State introduced the team to facility-level staff and explained in great detail the objectives and targets of the project, demonstrating a high level of government buy-in and engagement. The World Vision team was impressed with the quality of health staff employed at the now functional health facilities, many being drawn from surrounding towns and most having previous experience working with NGOs. 
The World Vision team also met women undertaking an Infant Young Child Feeding (IYCF) training. With exclusive breastfeeding and malnutrition prevalence rates at 9%[1] and 14% respectively, through such initiatives as IYCF World Vision promotes optimum child nutrition care practices. World Vision supports ten established women groups that routinely facilitate infant and young child feeding discussions among the groups. Led by trained mentor mothers, in such forums women are empowered on benefits of breast feeding, early initiation of breastfeeding, exclusive breastfeeding for six months, continued breastfeeding until two years and complimentary feeding using nutrition dense age appropriate foods.
The senior team learned how traditional Somali child feeding practices, which involve bottle feeding and early introduction of goat milk and porridge, at often times expose infants to diseases such as diarrhea and malnutrition.  The team learned how 'Mentor Mothers' carry the message of exclusive breast feeding beyond the confines of health facilities and reach women in the villages. The women organize meetings in informal set ups as they go about their routine schedules to have breastfeeding conversations and provide support to mothers facing challenges breastfeeding.
 Halimo, a mother of five children was enrolled in the group when she was seven months pregnant, all of her five children were never exclusively breastfed, thanks to the knowledge and experience shared in the group, her delivery was assisted by a skilled midwife who initiated her newborn on breast milk within 30 minutes of delivery. Now in her fourth month of exclusive breastfeeding, she is determined to continue until six months. She said, "my other children whom I gave goat milk got sick with diarrhea most of the times, but baby Abdi is yet to get a diarrhea episode now that exclusively breastfeed".
The team also met with the facility-level management committee to hear their impressions about the on-going project and learned that the community had organized themselves to begin construction of a barrier wall to enclose the newly constructed facility.  World Vision's Operations Director, Kevin Mackey, noted "World Vision is always pleased to see communities working to help themselves to support our activities, without community support, projects will not succeed."
Bringing together communities and government to help reestablish a functioning health sector is one of the chief objectives on World Vision's new approach.  World Vision teams are working hard to ensure that nascent government institutions like the Ministry of Health in Southwest State are adequately supported with technical skills, assets and funding to ensure that they meet their mandate to the communities they serve.  It is only through the continued support of DFAT-D and other donors that World Vision can help in developing stable and sustainable systems which will ensure reliable, quality health service delivery in the future.
[1] UNICEF 2013