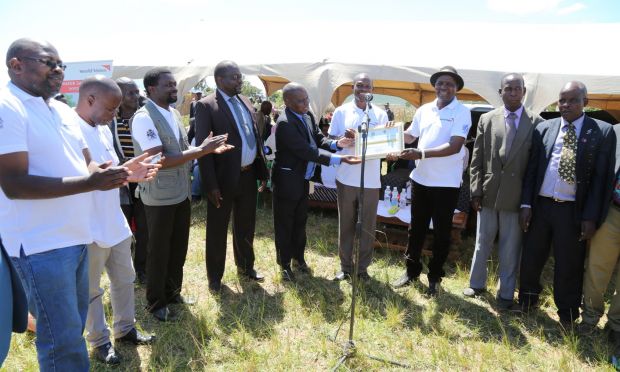 Nearly 25, 000 people are now living in a clean environment in the area of Traditional Authority (TA) Kameme in Chitipa having attained an Open Defecation Free (ODF) status. This is the community where World Vision's Kameme Area Program (AP) is found.
Speaking during the certification ceremony at Kameme Community Ground on Thursday, 11 May, Chief Director in the Ministry of Health Dr Ben Chisamile, who was guest of honor at the event, commended people of Kameme community for ensuring that each and every household in the area has a latrine.
While highlighting that the Malawi Government adopted Community Led Total Sanitation (CLTS) in 2008 to promote sanitation and hygiene in the country, he said that the act is crucial for health.
"Maintaining good sanitation and hygiene is central to improving the quality of life for people in the country as we know that globally, 25% of all deaths and 52% of total disease burden are attributed to sanitation related factors", said Chisamile.
Calling the day a landmark for the people of Kameme and Malawi in general, Chisamile urged the newly crowned Traditional Authority Kameme to maintain and sustain the attained ODF status.
"We need other traditional authorities in Chitipa and surrounding districts learn from you," challenged Chisamile.
In his remarks, World Vision Malawi Interim National Director Chikondi Phiri echoed Chisamile in calling the Kameme community to maintain their new sanitation status so that diarrhea and other water borne diseases can be dealt with forever.
"World Vision partnered with UNICEF to fund an Integrated Water Supply, Sanitation, Hygiene Promotion and Capacity Building Project to increase access to sustainable basic sanitation facilities in this area of Kameme", he said before adding that:
"Now that the entire population of 24, 815 is in a clean environment with 5,910 households having a latrine with a hand washing facility and a drop-hole cover, it is my belief that we will maintain it and continue enjoying the benefits that come," he said. 
Celebrating with an age old traditional dance called Malipenga with his subjects in the new found hope, Traditional Authority Kameme could not hide his excitement.
He recognized that the day marked one of the greatest achievements for his community in as far as hygiene and sanitation is concerned.
He thanked World Vision for the joint efforts and pledged to sustain the hard earned status.
"On our own we could not have done it. Let me also thank World Vision for all the interventions they are doing in my area to uplift the lives of children and the entire community," said T/A Kameme.
Kameme has joined 86 other Traditional Authorities in the country in adopting hygiene practices. In Chitipa, of the 5 only two others are yet to attain a similar status.
The celebrations were made under the theme 'It is Everyone's Responsibility to Ensure that Kameme area remains ODF'.
The 490,000 US Dollars UNICEF grant has helped to increase the percentage of latrine coverage from 70 to 100 percent, ensured that 2,757 latrines have been constructed, rehabilitated 19 boreholes, trained six local artisans in sanitation marketing technologies, and created seven WASH clubs in schools, among other things.