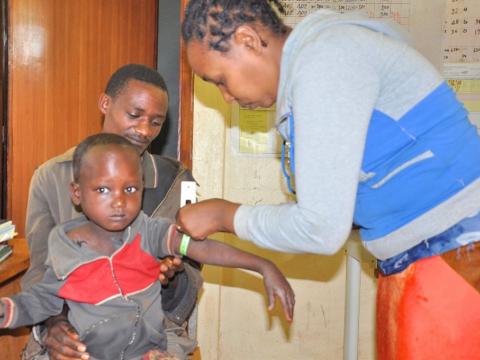 The cries of children, mothers in Kochere
Wednesday, October 18, 2017
In times of drought and disaster, children and mothers are the most vulnerable people in society. The recent El Nino triggered drought, followed by prolonged rain failures, has resulted in the deaths of many children and their mothers due to severe malnutrition.
In Kochere and Gedeb districts, 450 km south of Addis Ababa, over 20,000 children under the age of five are in serious need of treatment.
Ararso Dawit Bekele is 9 months old and was recently admitted to a health centre. When he was admitted, Ararso's mid-upper arm circumference – the measure used to determine malnutrition- was 10.5 cm (a very poor result). He was very weak, inactive and at risk of death. He initially weighed in at 6.5 kg.
After one month of treatment, his arm circumference is now 11.7 cm and his weight 7.1 kg, a tremendous improvement.
"I am very happy. God intervened and my child survived death. His condition is getting better," says his relieved mother, 25-year-old Workalem Dawit. She is also the mother of two others.
A total of 533 children under age five were admitted to health posts at Outpatient Therapeutic Programs (OTP) due to Severe Acute Malnourishment (SAM) by the end of July 2017.
According to Meskelu Beyene, the Gedeb Hospital Medical Director, 911 children, pregnant and lactating women were screened for Moderate Acute Malnutrition (MAM) in Gedeb district alone. However,  they didn't receive any kind of targeted supplementary food due to lack of supplementary feeding programs at woreda level (the smallest administrative level in Ethiopia). 
In response to this grave situation, World Vision Ethiopia responded with emergency nutrition in order to save lives, and prevent children, pregnant, and lactating women from morbidity and acute malnutrition.   
In only three health centres, of the many health institutions in Kochere district, 376 severe acute malnutrition cases were presented in the last 12 months. This is a huge burden.  The good news is that these malnourished children were properly treated. No deaths were reported due to World Vision's provision of the necessary technical and material support such as medical supplies and training for health professionals.
"Saving the life of a single child is more than anything and the greatest success for us. We were able to do that in collaboration with our partners," says Tarekegn Demisse, head of Fisaha Genet health centre.
 "World Vision's intervention and support at this critical time is immense. The organization provided immediate medical supplies, food for caretakers, construction of a kitchen, and logistical and financial support to establish stabilization centres," says  Berhanu Tadesse, head of Chelelektu health center. 
Many girls and boys get married at their earliest age, bear children, and don't shoulder the burden in times of difficulties such as droughts. They end up in divorce putting the pressure on the other partner.
Abiyot Bone, 22, is a father of two and Tigist Abraham, 20, is a mother of two. They are facing similar challenges. Abiyot's wife left him leaving behind two children. Abiyot's son, 5-year-old Wubishet, is suffering edema (an abnormal swelling of face, hands, and feet due to malnourishment). Wubishet was admitted to Hama health post on 30 August 2017. He was discharged on 19 September 2017 after a full recovery.   "At first I was scared of looking at his condition. Now my concern has gone," explains Wubishet's father Abiyot.  
Tigist's husband left her leaving behind two children. Tigist's son, two and half year's old Eyasu Abraham, is also suffering the same ailment. Tigist's husband departed after she gave birth to her second child just a month ago. "There was nothing to eat. My children and I were starving to death. My older son fell sick. His face, hands, and feet became swollen. He couldn't see, speak and was on the brink of death. I had nothing to do but wait for death to claim me and my children," Tigist laments with deep sorrow. She needed help desperately.
Assisted by a health extension worker, Tigist arrived at Chelelektu health centre's stabilization center on 15 September 2017 after carrying her two children for 6 km.  "I see hope in him. At least he speaks, he can see and sit. But still worry very much of where to go when he fully recovers and is discharged," she continues to explain with a sense of hopelessness.
World Vision's intervention in Kochere district over 13 years transformed many lives of children and families. Despite such successes, there are still people like Abiyot who languish in poverty and diseases. There are still people who are unaware of how to cope up such harsh conditions. They practice poor child feeding, hygiene, and sanitation. Sometimes, even in the presence of sufficient food, children and their mothers still suffer from malnutrition and other diseases.
This shows that much has to be done in fighting bad traditional practices such as early marriage and promote financial education, diversified agricultural practices, proper child raising and family planning in order to ensure sustainable livelihood among the people of Kochere.
By Kebede Gizachew