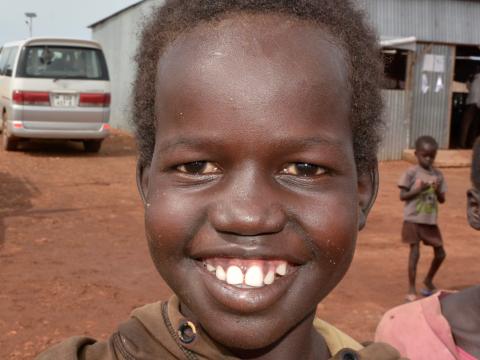 Emmanuel, the 11-year-old South Sudan presidential hopeful
Friday, June 16, 2017
11-year-old Emmanuel wants to be the president of South Sudan. And the reason, "I want to bring peace to my country," he says.
 Emmanuel lives at the Protection of Civilian (PoC) site in Juba with his father since 2014. His mother and sisters live in Juba town.
 Since December 2013, the conflict has devastated the lives of millions of South Sudanese and displaced more than 3.7 million people. About 1.9 million of them have been displaced internally in South Sudan and 1.8 million are refugees in neighbouring countries.
 Emmanuel's family came to Juba from Unity State in January 2014, following the 2013 fighting that was experienced in various parts of South Sudan.
 "There was a lot of fighting and many people were killed. We escaped and came to Juba. My father and I live at the PoC but my mother and sisters live in Juba town," says the charming boy who has a ready smile.
 Emmanuel says that he does not know why the female side of his family lives outside the PoC while him and his father live in the PoC.
 But he does know one thing; it is the conflict that has separated them. "When we lived in Unity we were all living together but here we are living separately and I have not seen my mother and sisters since we came here in 2014. I miss them a lot," he says.
en asked how he will bring peace to South Sudan if he becomes the president, Emmanuel says that he will ask everyone to surrender all their guns and that he will have them all destroyed.
 "If people don't have guns there will be no fighting," he says.
 Emmanuel goes to Hope Primary School at the PoC where he is in grade 4. He says that he loves school and that Teacher Domai is his favourite teacher.