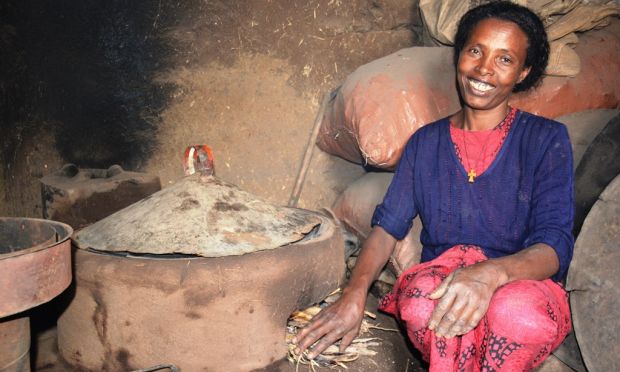 World Vision Ethiopia is implementing Energy Efficient Cook Stoves Scale-up Project in 12 Area Programs (AP) or districts of the country aiming at reducing reliance on wood fuel among participating households. Boset AP is one of the 12 area programs implementing the project. In collaboration with the local government, it established 41 cook stove cooperatives and distributed 5006 pairs of Tikikil and Mirt stoves to the community benefiting 24,660 households.
Genet Reta, a member of Atbya Kokeb Saving and Credit Cooperative, is one of the beneficiaries of the energy efficient cook stove. Before she joined the cooperatives, she has gone through a lot of challenges while collecting firewood and using it at home. She says, "The traditional three stone stove consumes a lot of firewood. Sometimes I had to walk a long distance to collect the firewood wasting hours. Some other time I had to purchase the firewood spending a minimum of US$12 a month for firewood."
The smoke from the firewood was causing health complication on her. "The smoke from the stove affected one of my eye severely and I was operated at hospital. It took me a long time to get healed. I also spent quite a huge money for medication," she sadly recalls. The flames of fire coming out of the three direction was also harming her feet. She says, "Cooking with three stone stove was like getting yourself burnt for a while. The flames from the stove burns your feet and your hand as well. That was fate for years until I got this stove. The smoke also makes you to cough and there were times when I used to get sick of your breathing system."
Now Genet has received a pair of Energy efficient cook stove for making enejera (the Ethiopian bread) and for cooking. Comparing the traditional cook stove with the Energy efficient cook stove, she says, "The energy efficient cook is by far 100% better than the traditional one. It consumes less firewood. My expense for firewood had reduced by more than 50% as compared to the traditional one. This stove is has lesser smoke and there is no way for flames to go out and burn my feet and hand. I no longer get dirt and smell smoky after making injera. All in all, the cook stoves are made the best of people like me and I love them so much."
Energy efficient cook stove is not the only benefit of energy efficient cook stove project. When a person benefit from energy efficient cook stove, he/she also need to be a member of the saving and Credit Cooperative. The saving and credit cooperatives provides loans to its members and encourages them to make business of their interest. Genet is one of the members of Atbya Kokeb Saving and Credit Cooperative. It has been one and half a year since she joined the cooperative. Since then she took loan three rounds and engaged herself in sheep fattening and raising, and poultry works.
Genet is very happy in the loan opportunity. She says, "I and my husband were a daily laborers. Our daily income were not adequately feeding our children. For this reason, two of our children quit school and the other three were attending supported by our close relatives. But now thanks to this loan provision, I making good income from poultry works and sheep fattening and providing my children with their needs."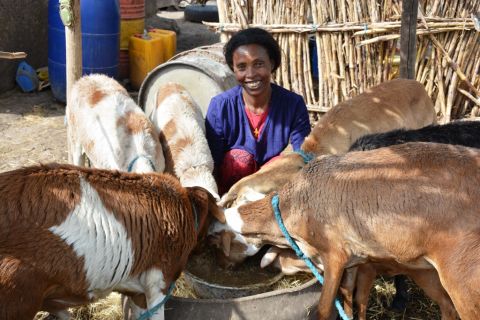 Besides supporting her family through the sale of eggs and fattening business, she also has rented half a hectare of farmland to plant teff this season. She says, "When I think of this opportunity, it seems to me like a dream because I had never had this amount of money that can rent this amount of farmland. I do hope that the produce I will be harvesting from this farmland will cover my family annual food consumption. This will help me to make more money to expand the fattening business I am dreaming of in the future."
Genet is now ready for the fourth round loan and has her business plan of fattening in mind. She says, "The business I made so far has opened my appetite for more fatten business. I am promised to access more loan in my fourth round term and am eagerly waiting for the opportunity forward."
Story by: Aklilu Kassaye