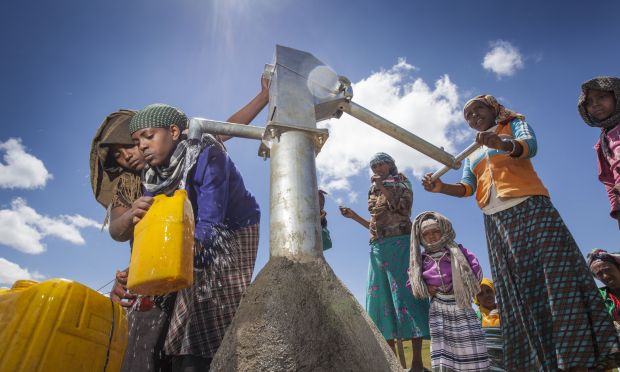 "We used to fetch water from a spring walking far from our village. Besides we have to wait for hours as many people collect water from one spring," Birke Alaye, 31, a mother of three expressing the situation before.
Birke lives in Menz Gera district of the Amhara region, some 280 km north east of Addis Ababa. Menz Gera district is one of the areas that are affected by the current drought. Birke and her neighbors had been suffering from water borne disease due to lack of clean water.
"We had serious problem of getting clean water. I and my family had been suffering from Diarrhea and typhoid," Birke sadly remembered.
12 year old Belete Dereje, son of Birke, is a grade 6 student. "I used to be absent from school for more than three days because of diarrhea. I could not catch up with my colleagues when I return back to school. Now I don't have any problem with that. I am attending class daily with my classmates."
The lack of clean water in Menz Gera district was solved with the intervention of World Vision in the area. 27 water sources have been rehabilitated with the intervention of WV Netherlands while the construction of one new water source is underway at a cost of 404,271 ETB to serve 7,800 community members who faced water shortage, while enabling about 4, 000 school children get clean water at their school.
"Before the construction of this water point, we used to fetch water from the same water where we wash our clothes. Now thanks to World Vision we are drinking clean water and wash our clothes every week." Tibelchi Woldegebreal, 40, happily explained.
"We are very grateful for World Vision. We have access to clean water. Our children are no longer suffering from water borne diseases," thankfully said Birke.