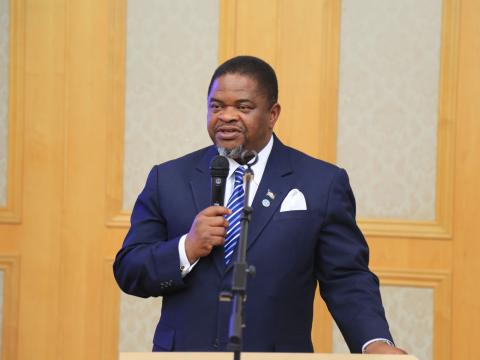 Governments and NGOs should do more for Children
Thursday, June 21, 2018
Minister of Education, Hon Bright Msaka has stressed the need for increased effort by the government and Non-Governmental Organisations (NGOs) in addressing needs of children across the country.
Msaka made the remarks during an interface meeting of government ministers and the parliamentary committees organized by World Vision Malawi's advocacy department on June 13th.
The interactive meeting updated stakeholders on the work that WVM accomplished in financial year 2017 and lobbied for more investment in children.
Msaka, who started by reiterating Government's commitment towards the children stated that "the ministry's current focus is to improve access to education, quality and the retention of pupils in primary education".
"As we increase our efforts, we encourage World Vision Malawi to ask questions and give feedback so that you (World Vision) are advised on interventions and directions to take", said Msaka.
Msaka further bemoaned the low retention rates in Malawi's schools citing infrastructure shortfalls.
"You may have 300,000 students seating for the standard 8 examinations, yet selection space is not adequate to cover for all those, with only 8,000 spaces in government owned Secondary Schools. A considerable number of children are lost in the system which is unfortunate", worried Msaka.
According to a report read in the meeting by WVM Interim National Director, Chikondi Phiri, in fiscal year 2017, World Vision reached more than 5 million children with a total budget of US$78,619,037 with various interventions in Health, Education, Food Security, Water Sanitation and Hygiene and vocational skills, among others.
Weighing in on the report presented by World Vision, Minister of Health, Honourable Atupele Muluzi applauded the organization for the work it is carrying out across the country and called for an unconventional method of advocacy to influence change amongst Malawians.
"There is a lot we can do differently in terms of Behavioral Change Communication to have more people respond positively and reduce redundant efforts that do not yield the desired results and mitigate the loss of resources in addressing nutrition related deficiencies in children", said Muluzi.
The interface meeting which was held at the BICC, was patronized by Ministries of Education, Science & Technology, Gender, Children and Social Welfare, and Health. In addition, parliamentary committees, world vision officials and the media fraternity were also present.