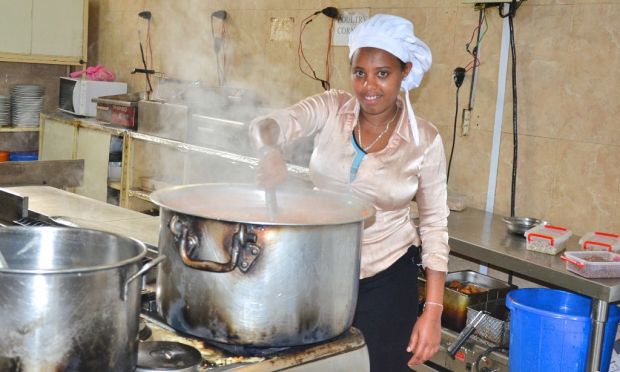 Serkalem, 17, with three siblings, lives in Bahir Dar city some 557km from Addis Ababa. She was born to a poor family at a place called Merawi some 20km south of Bahir Dar. As her parents were not able to feed and send her to school, she was employed at someone's home in Bahir Dar as a housemaid at the age of nine.
She worked as a house servant for six solid years. Life was a terrible battlefield for her during those years. She says, "I had to get up early in the morning at about 4:00 AM and prepare food for my employer's children, sending the children to school, clean the house, cook lunch for the family, wash dishes and clothes and cook dinner. At the end of the day, I was going to bed at about 10:00 PM at night. "
The excessive workload was not the only challenge of Serkalem. Her employers were treating her as a slave. "If I accidentally made any mistake, both the wife and husband used to insult and beat me and so do the children. They were considering me as a worthless girl. I used to pass most of my days with sorrow and tears," she melancholy recalled with tears gushing out of her eyes.
Irritated by her employer's mistreatment, she tried to suicide herself so many times. "Life was awfully bitter for me. There were times where I tried to hang myself with rope and wished to die catching electricity," she sadly recalls.
When the challenge went from bad to worse, Serkalem left her first employer home and employed to a new employer. However, her second employer was not a different one from her first employer. Tired of working as a housemaid, she began working as a daily laborer in a Khat farm.
Working at the Khat farm, Serkalem, had to get up at 5:00 AM in the early morning and work up to 12:00 PM and return back to work at 5:00 PM in the late afternoon and work to 1:00 PM in the early evening. In fact working at khat farm as khat harvester was very painful to her, too. She says, "The very important part of the khat for chewing is its fresh leaves and tops. I had to collect its fresh leaves and tops with my two hands and remove the unwanted part of the leaves with my teeth from both hands. While doing this, the leaves cut my lips, change my lip color green so often and some watery part of the leaves enters my mouth leaving me stimulated and addicted."
In response to these sort of child labor exploitation, World Vision Ethiopia in partnership with United States Department of Labor financial support began supporting children between ages of 14-17, who are either engaged or at-risk of labor exploitations to help them secure education services and/or alternative decent employment opportunities.
Serkalem was one of the girls targeted in the project and took training in food preparation for three consecutive months. She is now wage employed at four star Jacaranda Hotel in Bahir Dar in food catering.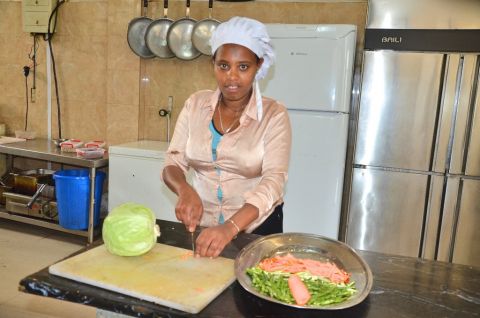 Serkalem working in the kitchen
She is now the happiest girl. She says, "I feel I have begun living life now. I work eight hours in a day. There is no one abusing my life. I am respected. It is a lovely work and I am enjoying it."
Serkalem has now started to support her destitute family. She says, "I send some money to my parents when there is holiday celebration like New Year, Easter, and Christmas. I also have brought my younger sister (who is attending in grade 12) to Bahir Dar so as to help her to attend a better school with better facilities."
She has the vision to open a cafeteria and is saving money now. "Now that World Vision has opened my business eye, I have a dream to open my own cafeteria. So far I have saved close to US$ 200 for this purpose. I hope I will make it very soon."
Story by: Aklilu Kassaye