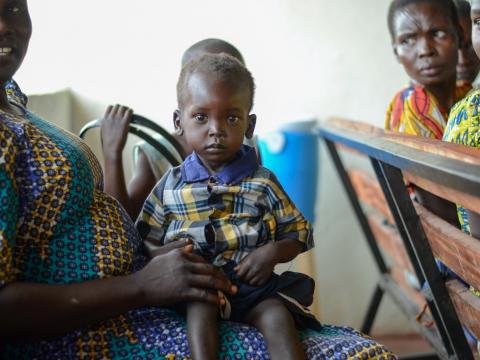 More than a million South Sudanese children in need of urgent nutrition assistance
Wednesday, April 18, 2018
The waiting room is jammed. There is no extra space on the wooden benches. Parents and their babies stand along the side of walls. 
It's too hot, dots of sweat begin to cover brows. Babies wail. 
This is the front line of South Sudan's battle with starvation.
Already 6.3 million people are in desperate need of food. By May, there are concerns that parts of the country could return to famine and another 800,000 could be struggling if humanitarian assistance doesn't arrive on time. 
At the centre of it all, Wilma clutches 9-month-old John Jacob in her arms. This is her second-born, a boy who used to be cheerful and bright. 
But a lack of food at home has taken a toll on John Jacob. Wilma's husband is away fighting in the conflict and hasn't returned for many months. No income from his job has been provided to Wilma and the children in the time he's left. 
To survive, Wilma looks for work in other people's gardens. On days when there is work, she pulls weeds, hoes and waters for 12 hours, with John Jacob tied to her back. 
"It's very hard. Sometimes it's two days in a week, other times it's less. From that, I get between 150 to 250 SSP (about 1 USD) per day," Wilma says. 
With the money, Wilma goes to the market and buys a few supplies. But it's rarely enough to last more than a few meals. In the last few years, the price of basic goods at the market have doubled or tripled, as conflict has restricted the amount of food grown and prevented goods from being imported. As a result, the cost of food has left many without enough.  
Wilma says that when there isn't any work and the money runs out, her family skips meals.
As a result, John Jacob has become malnourished. 
"He's not eating well anymore and he's gaining very little. Most of the food he eats is breastmilk, but there's little left," Wilma says.
At the same clinic, John – a single father – has one year old Stephen sat on the floor, just by his feet. 
"He's always sick, he often has diarrhea," John explains.
John, age 32, is unemployed. Stephen's mother abandoned the family. 
John's situation is similar to Wilma's. 
About twice a week, John is able to find an odd job – sweeping, cleaning, other casual work – but it's not reliable. 
Without other family in Juba, John takes Stephen along to the work sites – leaving him to play in the dirt while he works. It's his only option, he tells us. 
"If I don't work, we don't have money, we don't eat," John says. 
"I would like to take him back to Yambio (about a day's drive), to stay with my mother. She is able to grow a garden there and he would have enough to eat. But the road to get there isn't safe. I don't think we could make it," Stephen adds.
Both Wilma and John and their children, along with 400 parents, are at the nutrition centre today to collect a two-week supply of Ready-to-use Supplementary Food (RUSF) – a high energy, vitamin and protein rich, ready-to-eat paste suitable for treatment of children suffering from moderate malnutrition. 
Hope doesn't end there. 
Wilma and John have been enrolled in World Vision's emergency food security project that provides participants cash and training in business skills, nutrition and hygiene for families that are struggling.  
"This approach helps families build business opportunities, learn about good nutrition practices and helps them understand the importance of hygiene and sanitation to improve child health," says Damaris Wanjiku, World Vision's nutrition project manager.   
By participating in the programme, families are provided cash assistance worth $45 US a month, for the total of six months.
Over the last year, more than 350,000 people have been provided cash assistance to help them provide for their family's needs. It's one of the ways World Vision is helping ensure children's needs are provided for. 
"There is so much more work to do, the need is so great. Only with sustained peace will we be able to see significant declines in malnutrition and hunger," says Mesfin Loha, World Vision's interim country director in South Sudan.
"Only when it's safe, will families be able to be reunited and work together to support their children. Only when it's peaceful will people be able to use more land for agricultural purposes. Only when the conflict ends, will children be able to reach their full potential."