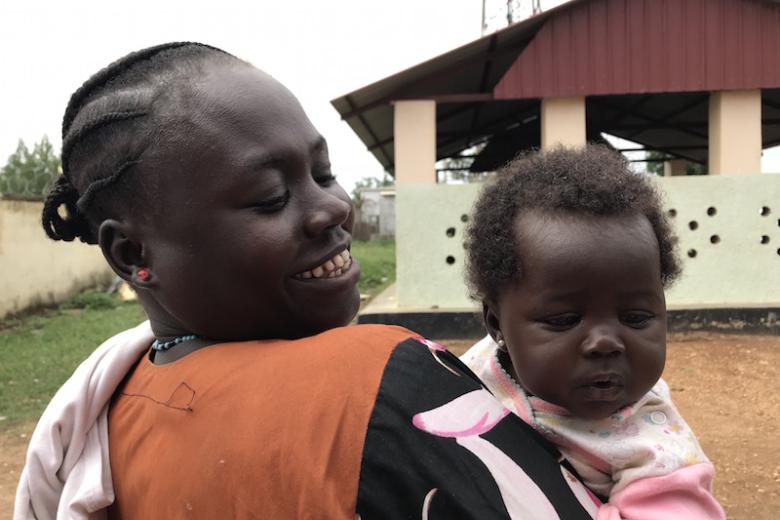 Mothers in South Sudan brace for malaria and other diseases as rainy season starts
Monday, April 23, 2018
"Malaria is a leading cause of death in South Sudan," clinical officer Salses Edward was very emphatic as he talked about the disease plaguing the country. When his child got malaria and the doctor was not immediately available to assist her, he had resolved to dedicate his life helping save lives. "I have seen so many deaths caused by malaria and every time, it was very painful", Edward adds.
The rainy season has started, from April to October, and mothers in South Sudan are starting to worry. While rain is welcomed by most of the population, it will also fill the swamps, canals and other waterways – a breeding ground for mosquitos, among them the dreaded malaria-carriers.
Joyce Kuron, World Vision's health coordinator, said the patient must be brought to treatment as soon as symptoms were felt. No time should be lost. "Those who moves up to the severe level are often ones who often takes their condition for granted and do not go to the health centers or hospitals. Some do not have access or never complete the prescribed medicines. That is when the parasite attack gets worse", she adds.
As of the last fiscal year report, over 67,000 under-five children were clinically diagnosed of malaria, close to 39,000 were confirmed to have the disease and over 6,000 were reported as severe. As part of prevention support, World Vision has distributed 50,344 treated nets to pregnant women and mothers and over 61,000 mothers with children between 0-23 months were provided with counseling on nutrition, infectious diseases and malaria.
The hygiene promotion campaigns have reached 292,042 people boosting cooperation in the combat of diseases. Reportedly, malaria, diarrhea and pneumonia constitute about 77% of the total OPD diagnosis for children under five resulting from poor caregiver practices. Low access to safe water and sanitation facilities.
"My baby got malaria when she was a month old. As a mother, I always worry because it can happen again", 27-year old Esther say. She was in the Kator Primary Heath Care Center for her 7-month old daughter Moding Victoria's check-up and corn soya blend (CSB++) under World Vision's nutrition program.
Susan, 27, came out from the center smiling after her 8-month old baby Amal completed the screening. When Amal was just six months, she contracted malaria that got Susan very scared. She says, "As a single mother, all the burden was on me and it is not easy when your children's lives are in danger."
Angelina, Sabiva's 4-year old daughter was not feeling well. "She has fever since yesterday and we found out she has malaria", she shares. Sabiva was also carrying her 3-months old baby Sarah who just went through a malnutrition screening. Quickly they moved to the queue in the medical lab for testing.
While the program is focused on the combat of malnutrition for close to half a million children, the screening also includes malaria detection after which the children found afflicted are referred to the government-managed medical laboratory for tests and the pharmacy for the medicines.
Last year's outbreak reportedly claimed the lives of more than 4,000 people. "When the rains start, the malaria cases begin to increase. People are aware but sometimes many got used to it and take it for granted", says Gloria Luka Joseph, World Vision's nutrition coordinator in Juba overseeing the program in 11 primary health centers. 
In the Kator center located in capital city Juba alone, at least 120 people are tested of malaria daily. World Vision's Malaria Morbidity Report coming from the 189 centers it supports in the country has screened 117, 192 cases of uncomplicated malaria (which means the patient has fever, body pains but can still operate normally) among five-year olds and above. Over 10,000 have severe cases in the same age group.
Outside of the medical lab, a long line of mothers wait for their children's turn. Michael May George, a medical technician for 10 years, struggles daily with old equipment and a testing unit that often does not work. "If there is enough supply of slides, it will be more efficient for us. For now, we have to use whatever we have to address the people's needs", he adds.
A Malaria Indicator Survey said that the disease "accounts for 20-40% of all visits to health facilities" and most of those who are at high risk are pregnant women, children under five years old, those who are HIV-positive and returnees from areas where malaria-incidence is low..
World Vision in South Sudan provides both health facilities and community programming which is integrated Community Case Management (iCCM) for children between 2 - 59 months. Supporting 189 health facilities, the services are being provided by 2,208 trained community health volunteers known as community base distributors or home health promoters.