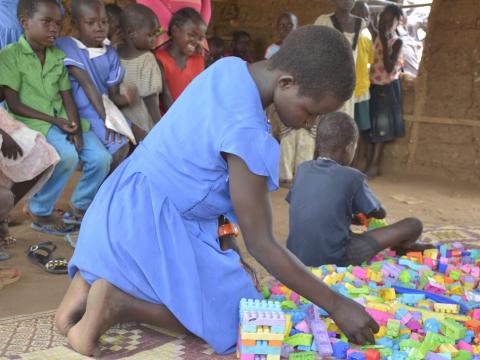 Over 3,000 children who fled South Sudan's long-running conflict find refuge in child-friendly spaces
Friday, May 11, 2018
By Lisi Emmanuel Alex, Communications Officer, World Vision South Sudan
It has been exactly one year since Beatrice lost both parents and never met her siblings. "My parents were killed in Yei while they were burning charcoals. When the war started, life was hard and one day my parents went in to the bush to burn charcoals to sell and and buy food – the shooting started and I ran alone. I later heard they were all killed," explained Beatrice.
The memories are still fresh and haunting the 14-year old girl. She said her two brothers both boys ran alone and up to now she never knows their whereabouts. She has a glimpse of hope that they are alive because she has not heard some bad news about them like one of the parents.
Beatrice fled to Juba with a neighbor through difficulties such as long distance walk because there were no vehicles to Juba after the war started. She is still at the same neighbor's house. Though she has a place to call home, Beatrice is now deprived of the privileges enjoyed by most of the children at her age.
"Since I came to Juba, I am just staying home. I can't go back to school because there is no one to pay for my school fees," she said.
The numbers of street children have increased in Juba after the renewed conflicts and skyrocketing inflation. Many parents now can't afford to feed and put children in school resulting in increase of street children around the city. Children consider the streets to be a place where they can find their peers. They can easily eat from the dustbin or garages.
"One day I was home and my friend came to me. She told me about World Vision's child friendly space (CFS) and she encouraged me to join. I am happy to be part of this center because I found friends and we have different games to play," said Beatrice.
"Here at the center, I am able to learn English and Mathematics. I am so happy because I am enjoying the learning," she added. The girl left Yei when she was in primary three. Although she has an interest in learning, there is no one to support her.
Beatrice has been attending the activities at the CFS for two months now. World Vision has provided a space for kids to play and interact with each other. It is also used for providing psychosocial support and love for peace among children to help address inter-communal violence.
The 2016 fighting in Juba resulted in to massive displacement within the town. Many children ended up becoming orphans. Out of 9,350 registered children in the five centers, 362 kids are complete orphans. Some of them are taken care of by relatives while others stay with their step mums. There are also other children who were taken care of by people who are not related to them.
According to Protection/Gender Based Violence Officer Gabriel Genge, "World Vision is also providing formal education and awareness on child rights and protection, gender-based violence and support for referrals for children who need medical treatment."
The center also became a source for family tracing and reunification for the children who got separated from their family during the war.
Most of the time when Beatrice comes to the CFS, she can't play with the rest of the kids and I asked her why? She said, "I am thinking about my brothers. I don't know where they are and I don't know if we will ever meet again," 
Despite all the difficulties, Beatrice hopes to study and become a doctor, a dream for most children in South Sudan. She said she wants to become a doctor so that she can help her two brothers whom she hopes to meet them. She also added that many people are suffering from multiple diseases in the country and she wishes to treat them when she becomes a doctor.
Beatrice's current aim is for the conflict to end. "I pray that peace comes to the country so the suffering of the people comes to an end so that I can start to search for siblings. My wish is they went to and are safe in Uganda because most of our people ran there", she said.
There is relative peace in Juba but this cannot completely take away fear from Beatrice. She said though there is no much shooting in Juba at night, she fears to fall sick because she may not afford to treat herself.
There are over seven million people who need protection in South Sudan, 61 per cent of them children below 18 years old. World Vision aims to increase awareness and promote social change to empower communities to better understand, prevent and mitigate child rights violations and gender-based violence and promote gender equality.