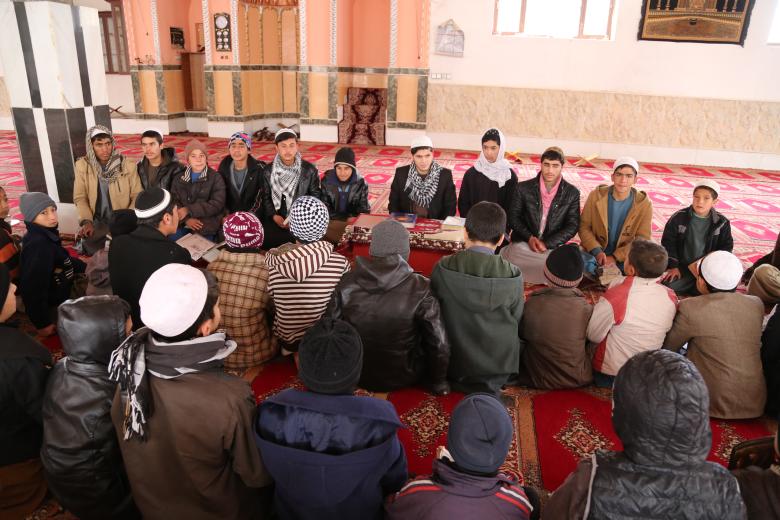 Precious jewels hidden beneath the dust of forgetfulness
Thursday, February 4, 2016
The dust of forgetfulness is covering the precious jewels of expressing and demonstrating care and compassion among the Afghan people because they are not considered to be the tangibles required for survival.
Love, kindness, mercy are some of the things being forgotten in a country like Afghanistan where people have experienced more than 30 years of war, insecurity and internal conflict. In such a context, Afghan families are forced to think more about how to survive than about the quality of their interactions, even those within their own households. Being kind to and caring for one's own children can even seem to require precious time and effort, commodities that are in short supply for those struggling to make it from one day to the next.
No matter how difficult, risky, and seemingly over-ambitious it may be to do so, World Vision is working in Afghanistan for the well-being of children and that includes the provision of a safe and loving environment.  Through the Faith and Social Change project, World Vision is conducting a training called Celebrating Families developed by World Vision for contexts like Afghanistan- to wipe away the dust of forgetfulness, to remember how important it is to care and to remind people that love is also a tangible need.
Celebrating Families is based on these five valuable concepts:
creating space for love

creating space for grace

finding seeds of goodness

discovering opportunities for forgiveness

realizing reasons for thanksgiving.
The programme guides families towards fullness of life. The focus is the whole family, not just the child and not just the parents. It is an attempt to support the basic unit of society, which in many ways is also the basic unit of love and care.
Mullah Sayed Mohammad, 27, is one of those who attended the Celebrating Families training last year. He is single and has been teaching Islamic subjects for almost one year in a mosque in his village. He teaches around 50 boys and girls each day in two shifts - morning and afternoon. In villages like his practically all children, boys and girls, attend a mosque school when they are of pre-school age. They learn to listen to the teacher, to take turns raising their hands when asking questions and they become familiar with the basics of reading and writing.
"When I heard the name of the training [Celebrating Families] I thought I would be taught how to celebrate engagement and wedding parties at home," Commented Sayed while laughing.
The Celebrating Families training gave him insights which he never had thought about while dealing with his students because no one told him about the importance of demonstrating love and care toward them. The training was a good opportunity to inspire him to change his behaviour towards his students, within his community and within his own family as well.
Teachers in Afghanistan punish students, beating them with a stick, slapping them and forcing them to stand in front of other students until the class ends. Sayed also used a stick as a way to scare the children and threaten them to be on-time and to study their lessons.
"The training opened my eyes to things which I didn't know about or how to use." 
"The training opened my eyes to things which I didn't know about or how to use," says Sayed. "I saw that I was wrong that thinking by using the stick, always being serious and allowing no smiling in the class, that I was encouraging children to study," he continues. "Even sometimes I used to be violent with the students. But, in fact, that's how I had been raised and that was how I had seen many other Mullahs treating them."
The Celebrating Families training not only changed Sayed's behavior toward his students, but he also learned how to create good relationships among his own family members. "Before, I didn't tell stories to my brothers and sisters, and most of the time I wasn't even talking with them.  After the training, I decided to treat my family better. [Now], sometimes I sit and talk with them about what I want my life to be like in the future," he said, with a smile. "I learned about how we can have a happy family, how to succeed and improve our life, about who a child really is and what  the rights of children and family members are," he explains.
Sayed is getting ready to be engaged. Now, through the knowledge he learned from the Celebrating Families training, he knows how he will deal with his own children some day, how to show love and care to them. "I don't remember my father playing with me while I was a child. In this training, I was taught how important parent-child play is for both parties.  Playing is a way to have fun, to get healthy exercise with the children, and a way to help our children learn new skills," he explained.
*********************
Masuma, 26, is the mother of four children, two girls (Sayeda and Masuda) and two boys (Sodais and Wais). Her father didn't let her go to school when she was young. Now, she is doing her best to raise up educated children. No matter if life has shown its unlucky face to her, she wants all her dreams to come true for her children.
Although her unfortunate childhood was enough to motivate her to be a kind and supportive mother, as an illiterate woman who only knew the four walls of her home, she didn't know how to encourage her children to go to school or how to practically show her love and care for them. The Celebrating Families training was a good opportunely for her to learn the things she needed in order to have nurturing a close relationship with her children and to have a happy family. 
"Since I have participated in the CF training, I ..."
"Since I have participated in the Celebrating Families training, I wake up early each morning to prepare breakfast for my children. After breakfast, while I am dressing them with their school uniforms, I try to make jokes and speak with them," Masuma says.
When she notices her children have disruptive or annoying behavior, she tries explain to them why it's unacceptable and provide an alternative. When she sees good behavior, she praises the children and explains to them why they were acting in a way that is good.
"Truly, such training brings happiness and effective changes in our life," she says. "I appreciate World Vision and wish they will conduct this training for all of those who have not yet received it."