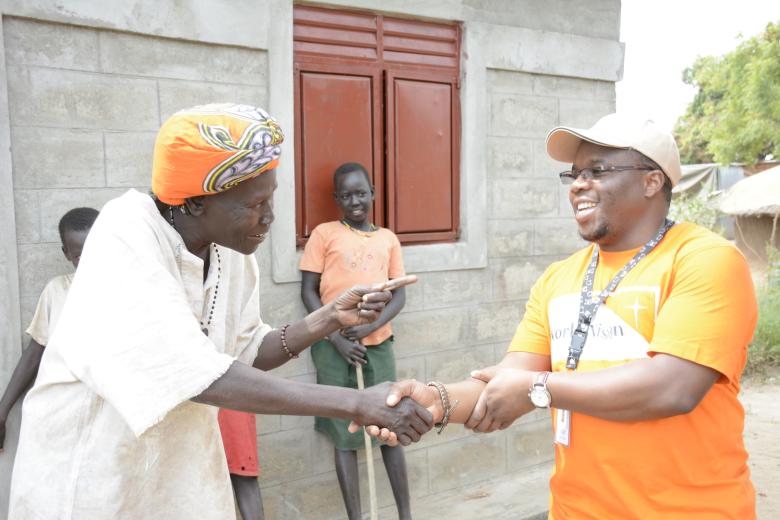 A safe home for Keji's family after three decades in the streets and a compound
Friday, June 22, 2018
By Lisi Emmanuel Alex, Communications Officer, World Vision South Sudan
Life is indeed unpredictable; it can easily make a turn especially if the family provider leaves this world without anyone to take up the responsibility. This is what Anita Keji experienced for nearly three decades as she singlehandedly raised her children in South Sudan.
Keji, a 66-year's old widow, together with her five children, lived on the streets of Juba after realizing that the government house they were living in had to been given to the next person after her husband died. Her husband was a head teacher in one of the primary schools but unfortunately suffered some mental health problems and died in 1986.
The family's condition, once enjoying a decent life, turned for the worse. After living for a time on the streets, Keji went to a nearby church and requested to stay within the church compound. It's unbelievable she lived in the compound for the past 26 years. "When my husband was a teacher, life was easy for me and my children. Soon after his death, we were thrown out of the house and it was given to another person," Keji recalled.
She added, "I had nowhere to go. I moved to the street and out of my five children. I lost two of them, a boy and a girl. I watched them die and I couldn't do anything." Even in despair, she never gave up. She struggled but tried to feed her children. She recalled farming on people's fields and getting paid by either money or foodstuff she provided for her children. She did her best for them not to beg from people.
One day, after a time in the church compound, she was disheartened to learn that she has to move out of the compound. The church administration needs to develop the space. Fortunately, one of her relatives gave her a piece of land where she can build a house in Gumbo. The place was bushy and few people settled in it. Without hesitation she accepted to move and start a new life.
Her only son married in 2004 but died in a motorbike accident leaving her with his two young sons. "Just like my husband, he worked tirelessly to feed his family. The incident took me back to painful memories of the past," Keji said. "After I lost my son, I had to do everything to feed the grandchildren and my daughter Yobu. I worked as dishwasher in hotels and get paid 50 South Sudanese Pounds (USD0.3) daily and also baked breads for them. I brought home the leftovers," she said.
World Vision conducted an assessment in Gumbo area and found Keji as one of the most vulnerable needing assistance. She was provided with one of the houses out of the 22 shelters that World Vision constructed.  "World Vision's permanent shelter was able to provide good and safe space for Keji and her five children. A pit latrine was also built. The families were grateful as the project came when they least expected it," said Victor Sinyangwe, World Vision's Shelter Manager.
"I give thanks to God, the church and World Vision. I did not believe I would one day have a house; I thought my life would only end in a hut", says Keji. Her only daughter Esther Yobu is currently taken care of by Confident Children out of Conflict (CCC), a local organization. She became the best performer in her final primary school exams and CCC decided to sponsor her and other high performing students in secondary school in the neighboring country Uganda.
World Vision partners with CCC in addressing child protection issues such as child abuse, torture, child neglect, orphans and vulnerable children whom the parents cannot afford to support. The performance of Keji's daughter is very impressive and she is the only hope for the mother at the moment. "My only hope is for my daughter to finish university so that she can support her brother's orphans," Keji explains.
Her grandchildren Justin Tombek and Emmanuel Jada are in primary 3 and 2 respectively. Both like playing football with other children in the evening after returning from school. They also help their grandmother with some simple housework like washing utensils and carrying water from the nearby water tap.
Above: Keji shows her former hut where she lived for years with her children.