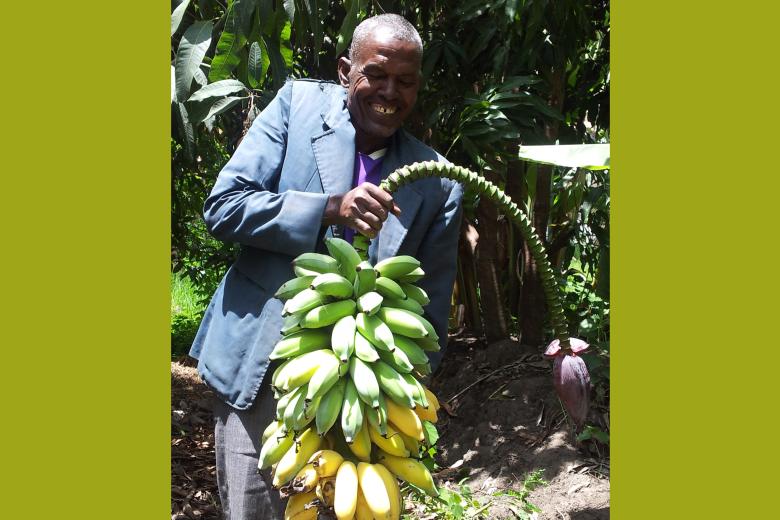 Securing Africa's Future - Ensuring Food Security for Poor Households
Tuesday, April 15, 2014
World Vision Ethiopia's Food Security strategic approach involves transforming agriculture from its current subsistence orientation into a market-oriented production system over the next three years. Hence the Food Security strategy pursues the following three strategic directions:
Market oriented agricultural production
Leveraging agriculture for health & nutrition to ensure effective utilization of food
Promotion of income generating activities
So far, our target beneficiaries benefited through:
Increased vegetable production in particular to onion, cabbage, and potato that brought additional income as well as supplementary dietary intake of fruit and vegetables.
Increased availability of seed in particular to onion and seed potato for subsequent seasons both for direct beneficiaries and surrounding farmers.
Additional production and income from fruits, in particular from banana, papaya, mango, and apple
Increased honey production and productivity (up to 20kg/ beehive/ season compared to the average 12kg of the baseline) that created additional source of income for beneficiary households.
Increased milk production (up to 8-10 litters as opposed to 1-2 liter of local breeds) creating additional source of protein and income from milk products.
Increased income for sale of shoats (sheep and goats).
Enhanced knowledge and skill in improved technologies and practices from training and experience sharing visits.
Increased demand for new technologies resulted from observed benefits.
 Contact
  Desta carrying a bunch of banana from his fruit garden.
"Let alone we, adults, who suffered a lot in those bad times, even our children are struggling to make sure that poverty won't come back again," said Desta Belete, 55 and a father of six, in Antsokiya Gemza.
Desta is one of WVE's model farmers in Antsokya Gemza.  In the past, Desta was, struggling to make a bare subsistence living through growing teff, maize and sorghum on his farmland and harvesting once a year.  After being enrolled with World Vision's food security program, however, Desta was provided with a number of trainings on farming, soil protection, compost production and water conservation along with improved seeds of various fruits and vegetables.  As a result, Desta's production has improved - he is able to produce various irrigated fruits and vegetables such as mango, papaya, lime, avocado, banana, onion, cabbage, carrot, etc. combined with coffee,  teff, maize and sorghum twice or thrice a year. The boost in his production enables him to provide enough for his family and sell the surplus.  Currently, Desta ensured his family's food security and sends his children to school without any problem.  Besides, he saves 30,000 ETB ($1,500) per year and trained more than one hundred farmers thereby transferred the skills he got from World Vision.  In addition, Desta has been providing improved seedlings for a number of farmers for free which greatly contributed to enhance their livelihoods and food security.