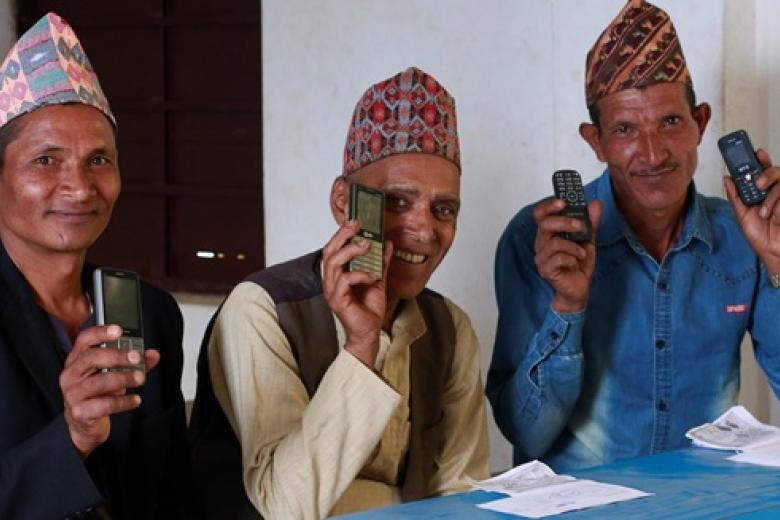 Streamlining cash transfers
Tuesday, April 17, 2018
International organisations delivering aid have been around as we know them today since the 19th century, but things are quickly changing in this hemisphere. Organisations are looking for innovative approaches to dealing with humanitarian development issues that make it possible for them to deliver aid even more effectively.
Sikka is one such approach. Developed by a team of local programmers and innovators, the system simplifies the distribution of aid in the form of cash or commodities, which is often complicated, especially in a post-disaster scenario. Sikka is a digital asset transfer platform, designed with a simple user interface, functions on feature phones and through Short Message Service (SMS) to ensure that financially excluded people have easy access to aid. To ensure transparency and accountability of the transactions, the data is backed up on a distributed ledger technology more commonly known as the blockchain.  The Sikka tokens are not cryptocurrency but are assigned to a value determined by the aid agency's disbursement plans in order to be used within a defined ecosystem. For example, Sikka tokens can be pegged to a Nepelese rupee 1 or US$1 or a kilo of rice. All that the user must do is know how to use a feature phone.
To test its usability, the system was piloted through World Vision International Nepal's Innovation Lab in Sindhupalchowk for a cash for work programme where 105 locals from Balefi, Phulpingkot had been employed to rehabilitate an existing irrigation canal. The locals had been working on this project for 10 days and Sikka was used to hand out their cash payments.  
A local NGO Community Development and Environment Conservation Forum and financial service provider, in this case a local cooperative worked very closely with the Sikka team. The beneficiary details including beneficiaries' phone numbers and the amount that each beneficiary was to receive, as recorded in a database, were exported, and uploaded on to Sikka's database. The beneficiaries were informed to come with their cell phones, to receive their payments. 
On distribution day, beneficiaries were directed into an orientation on the system as soon as they arrived. After a short but informative orientation, they queued up to verify their identity. After verification, the beneficiaries received text messages confirming the amount of Sikkas they were to receive. The beneficiaries then arrived at the local cooperative where after a brief exchange of SMS messages, they received the cash payment that was due to them. 
A process that would generally take a whole day was completed in under three hours and the risk of manual errors was reduced drastically. "The way we received cash today was much more convenient. Earlier, there were chances of data being lost, misplaced or even exchanged, and as a result there would be disputes among the locals, but now that has been sorted. We all received what we were entitled to in the first place," shares 55-year-old Narmada Karki, one of the beneficiaries.
Following the pilot through which 73 un/skilled locals of Phulpingkot benefitted, the team are now looking to replicate the pilot with more partners in order to ensure the system can handle all of the challenges of cash and commodity transfer programmes within the humanitarian sphere. "Sikka is a one of a kind system that works through a feature phone. This is its global pilot, and we have high hopes that its sophisticated technology with simple user interface will be popularly used for cash and commodity-based transfer programs," states Aradhana Gurung, Manager at the Nepal Innovation Lab.
From its outset, Sikka has intended to create a user interface that fits the needs and skills of its end-users. This recent pilot has given the team a wealth of valuable data and user feedback to continue improving the system and help Sikka reach more of Nepal's marginalised population.
Watch this video to know more about World Vision's earlier Cash-Based Programming interventions