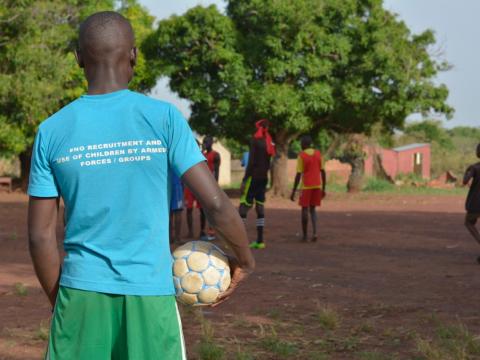 What happens after children are released from South Sudan's armed groups?
Monday, March 12, 2018
Under the shade of the mango trees, blue steel tables are lined up. Boys in plastic chairs sit neatly around them. Games of dominoes or cards are unfolding. There's talk of a rematch of yesterday's football game in the evening, jokes about who will win.  
A little more than a month ago, this scene was unimaginable. 
Many of the teenage boys staying at this interim care centre were still associated with armed groups, engaged in one way or another in South Sudan's conflict. 
"In the bush, we spent the days carrying guns and worrying about when the enemies were coming next," says 17-year-old Alex*, who was a soldier in an armed group.
Alex was among 311 boys and girls released from various South Sudanese armed groups in February.
At that time, they were formally released in an event in their community. 
While the majority of the children released in February returned into the care of their families, for those who had lost track of their families they were placed in an interim care facility while family tracing occurs. 
"Life here is much better than in the bush [with the armed groups]. Here we just playing and eating. Here we feel safe," Alex says.
To address the distress of what the boys might have experienced or witnessed when they were associated with the armed groups, social workers are stationed at the interim care facility every day and provide on-the-ground counseling and support. 
"At first, the children were closed, they were reserved, they took time. But now they have opened up and they are friendly and they interact freely with each other. Some are able to share their stories with the social workers that they have never told anyone before. They have taken the social workers to be their friend. They have opened up so much," says Christine Asienzo, one of World Vision's social workers. 
Still, there's more work to do.
About a quarter of the children in the interim care centre are dealing with depression and other mental health or psychosocial issues. 
"They are thinking back to what happened in the bush. They have witnessed killing, they have lost track of their families, they have been forced to do so many bad things. That has taken a toll on them," Christine says. 
To address the needs that children with suicidal thoughts have, World Vision is partnering with Médecins Sans Frontières (MSF) to ensure a trained psychologist provides in depth counselling. 
"Some have suicidal thoughts and need the help of a trained psychologist, who is on ground doing that," says Christine. 
Angelo oversees the interim care centre for the more than 40 boys who stay there and has supervised them since the night they arrived. 
"These boys are coming from different backgrounds, having different experiences from their time in the bush and they're teenagers. They make decisions very quickly and we've had to break up fights," Angelo says. 
"At the start, there are always challenges, but things are getting better now. We have seen their behaviour change, and a month from now, we're expecting there will be even more improvement, that they'll better adjusted," he says.
For the children themselves, there is a real desire to look ahead.
"I'm now in peace. I want to be a school boy," Alex says.
Over the course of the next two months, the children will return to their families or, in the case that a family member could not be found, be placed in the care of a foster family in their community.
Opportunities for education and skills training are also offering the children hope for their future. 
"I want to be South Sudan's president," Alex adds. "The first thing I would do is bring peace and bring education for everything. Those two things are the most important."
*Name changed to protect identity