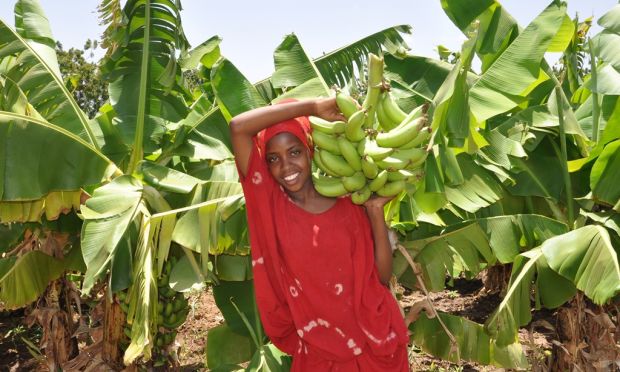 Successive droughts due to the continued failure of seasonal rains threaten the already precarious situation of vulnerable and the heavily weather dependent livelihoods of Ethiopian pastoral communities. Most of the drought affected Ethiopians are from pastoral communities in Somali, Oromia and Southern Nations, Nationalities, and Peoples' Regions.
The compounded shortage of pasture and water have been alarming following the multiple years of drought, with each dry spell more prolonged than the last, and with less and less recovery time between each incidence.
Poor body conditions and weakened immune systems among livestock resulted in very low milk production as well as the death of tens of thousands of animals.
In terms of trade, values for animals are declining rapidly for livestock owners with prices for sheep and goats diminished to one-fourth of the normal prices. This further exacerbates the dire situation the farmers already find themselves in.
In parts of the country where World Vision has existing programmes for rapid response delivery of emergency food security and livelihoods, interventions have mitigated the damage cause and helped in ensuring a full transition from emergency to recovery when the conditions allow. Dolo Ado emergency response program in Somali region is a case in point. To illustrate how challenging the situation is; the population of refugee communities numbers at 230,000, far exceeding the host community's 174,000 in an area where local resources were already stressed.
"During the drought, the condition of our livestock drastically deteriorated. Milk production reduced, and high death rates occured due to lack of fodder. But now, milk production has increased, and the condition of the animals have also improved following World Vision's Sudan grass, onion, and maize seed distribution initiatives. All of my livestock, 62 of them, have survived," witnesses 45-year-old Gule Mohammed, a beneficiary of an existing irrigation scheme on Genale River in Sigalo village.
World Vision provided 45,000 kilograms of animal feed to 545 households (2,725 individuals). The Sudan grass, which has high protein content, is an important fodder in the recovery of the deteriorated livestock. "The lives of our livestock have been saved due to the immediate provision of Sudan grass by World Vision. It is not a one-time feed source, but continuous. It can be replanted," explains Yesuf Ahmed, Sigalo Kebele administrator.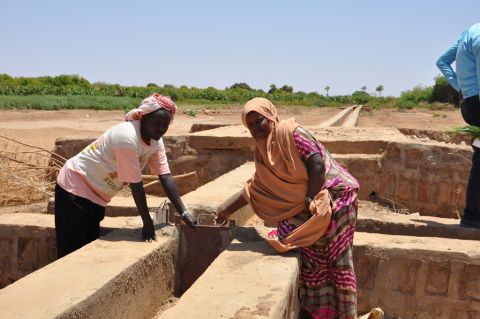 At the onset of the drought World Vision came up with an immediate response plan targeting 236, 721 vulnerable and food insecure communities in Dolo Ado district. The intervention was aimed at the rehabilitation of irrigation schemes and provision of agricultural and livestock productivity inputs. To ensure the continuity and sustainability of the livelihoods of the pastoral communities of Dolo Ado, World Vision constructed a two-kilometer irrigation canal at Genale and Dawa river basins. 100 households are direct beneficiaries. This has enabled the pastoral communities in the area to protect existing assets and recover diminishing ones.
World Vision provided 16 kilograms of onion seeds to 160 households of Borial village of Dawa River basin in April 2017. 800 sacks of onion were harvested, transported to central market and sold at 480,000 birr (20, 168 USD).
"We have got an incredible onion production which we have never, ever, had before," exclaims 50-year-old Bashir Ibrahim, vice chairman of Borial kebele.
This, in turn, helped many of the pastoral communities feed and educate their children while coping up the on-going drought. They were able to buy agricultural inputs, rent tractors to plant the next crop, buy food for consumption, educate and cater to the medical needs of their children.
35-year-old woman Fatuma Abdi Amin, a mother of 8 children is another resident in Borial kebele. She is not too worried about the current drought. She and her 13-year-old son Hassan Bashir are working hard on their maize farm and expecting a good harvest. "The unexpected output I got from the onion harvest motivated me to work on. I am looking forward to yet another success from my maize farm," says Fatuma. "I am very happy to participate in such productive work. We have such extraordinary harvests which enabled our parents to provide us what we need for our education," Fatuma's son Hassan adds.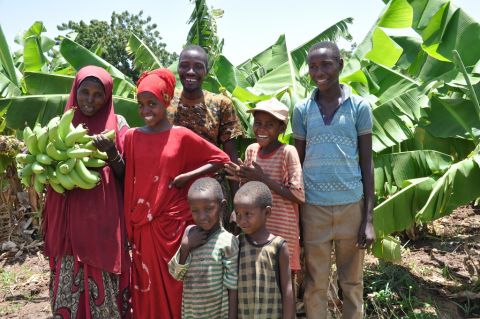 Children are encouraged by the good harvests too. Many are hopeful that they will succeed in their education and achieve their dreams. The good harvests have had a positive knock-on effect. 13 year- old girl Ubah Hussein is a grade 3 student at Borial Primary School. She is hopeful that she will do better in her education. "I am very happy with my education because my family provides whatever I need. This year I am doing very well in my education. I am hopeful that I will be a teacher one day," Ubah says smiling with confidence.
Many of pastoral communities served and supported by World Vision are engaged in diversified agricultural activities. Consequently, their incomes have improved. Gule Mohammed of the Sigalo kebele, who is the beneficiary of existing irrigation scheme on the Genale River, is a prime example of the efforts undertaken by World Vision. He earned 20,000 birr (840 USD) from the sale of cereals and vegetables in addition to his livestock assets.
"My siblings and I eat nutritious food because we produce maize, sorghum, bananas, mangos, and the likes. Also, my father encourages me to study and do well in my education," says 10-year-old girl Amina Gule, a grade 4 student at Sigalo Primary School.
The prolonged drought and the dry spells are still expected to continue in Dolo Ado district. September is a rainy season but there is no rain or any sign of rain. This is still a major and persisting concern of many of the area's pastoralists. Despite such fears, there is hope for the pastoralists of Dolo Ado, thanks to Genale and Dawa Rivers and World Vision's irrigation and food diversification initiatives in the area.