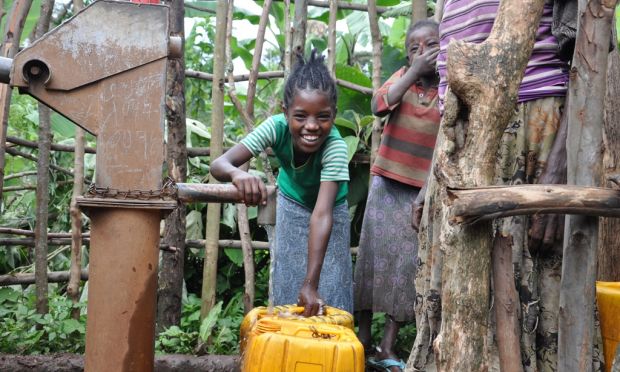 A Dire Situation
The burden on rural children, mothers, and elderly in a country where over 10.5 million mostly poor people require water and sanitation assistance because of an ongoing drought is extremely onerous.
Every day, children, particularly girls, walk through exposed and difficult terrain in search of clean water putting their lives at risk in the process. Consequently, their education is affected. They arrive late to school or absent themselves all together in their search for water. This has a disastrous knock-on effect. Schoolgirls, especially, became vulnerable to child labour, early marriage or teenage pregnancy with all their attendant risks. This locks them in a vicious cycle of poverty in which their own daughters might find hard to escape.
In Kochere district, one of the hardest hit drought areas in the South Nations, Nationalities and Peoples Region, most water facilities ceased to function due to the lack of regular rain.
According to Tamiru Gumi, the water supply scheme administrator of the district, children in the district are either fated to forgo their education or contract water-borne diseases in the search for, and use of, unsanitary water.
World Vision Ethiopia has been responding to the situation in order to improve access to safe water for drinking, cooking and personal and domestic hygiene for drought-affected people and livestock despite pressing logistical and financial challenges.
World Vision Rehabilitates 7 Shallow Wells and 10 springs in Kochere District
Jeldo village's water facility is among 7 shallow wells and 10 springs rehabilitated by World Vision. Jeldo village's water facilities had not functioned for the last two years. In that time, people in the village had to walk for an hour to get water. This was extremely arduous for the village's children, mothers, and the elders. It is a great pleasure to seeing the joy in Jedlo' now that the water facility has been restored. The relief is palpable.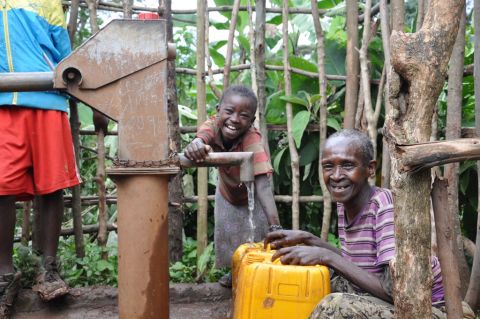 "Our water facility that has been barren for the last two years but, it has now brought forth life because of World Vision's emergency response. Now I can get clean water just from my door in 5 minutes like before. I am very happy and grateful to World Vision," says Chachu Hotessa, a 65-year-old woman and a mother of seven.
"The rehabilitation of this water facility will play a significant role in solving the water shortage problem. It will benefit up to 80 households," adds Tamiru, the water supply scheme administrator of the district.
11-year-old Zinash Tadesse is a Grade 4 student. She aspires to become a banker, but her dream has been challenged by many factors in her immediate environment. She is one of the many children who are facing difficulties as a result of searching for clean water.
"I was constantly absent or late from class because I had to fetch drinking water for my family. I walked for long distances on unforgiving terrain. This was not only very difficult but dangerous. The rehabilitation of this water facility benefits me a lot." Zinash says with a timid smile spreading across her face.
"Now, I can get clean water in five minutes, can do my school assignments and go to school in time. Secondly, I will get rid of contracting water-borne diseases. Last year I was ranked 10th in my section at school, this year I am planning to work hard and get to position2." Zinash explains with renewed hope, energy and determination.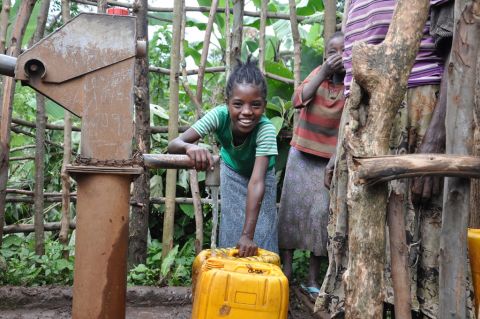 10-year-old Zinash Guyye is another beneficiary of the rehabilitated water facility. "I suspended my education due to a water-borne disease. Now that I can access clean water and will not contract water-borne disease anymore, I intend to resume my education."
The lack of clean water is not only a challenge to Zinash and her friends but also to the provision of quality health services to members of her community. Health extension workers have to go around for up to around one hour at a time searching for clean water in order to carry out their daily clinical work. They need the water to conduct appetite tests for patients, cleaning and sterilizing medical equipment cleaning and general hygiene and sanitation. World Vision rehabilitated a water facility which is located in the compound of Hanchabbi health post.
"I think World Vision eased our work. We spend very little time searching the clean water for our clinical work," says Adanch Tsegaye, a health extension worker at the Hanchabbi health post.
After rehabilitating the water facilities World Vision trained the local Water, Sanitation and Hygiene committees who in turn train the community on water management and usage as well as how to supervise and manage the water facilities in their respective villages. World Vision trained 120 Water, Sanitation and Hygiene committee and 250 health extension workers from all the villages of Kochere district.
"The knowledge and experience gained from the training has been instrumental in mobilizing the community on how to implement the proper use and management of drinking water," explains Etaferahu Asamiru member of a Water, Sanitation, and Hygiene committee for Jeldo village water facility.
"I will educate my community on household level hygiene and sanitation practices as well as on the operation and maintenance of the water facility," commits Bekele Rufo, the chairperson of Jeldo village Water, Sanitation, and Hygiene committee.
World Vision's revised emergency response plan set out to implement rehabilitation of water supply schemes, drill new shallow wells, up-grade existing water supply systems; truck-in clean water into the affected communities and deliver sanitation and hygiene promotion activities have been instrumental in the improvement of many lives. Over 320,000 people in the drought-affected areas have directly and indirectly benefited from World Vision's work.
By Kebede Gizachew