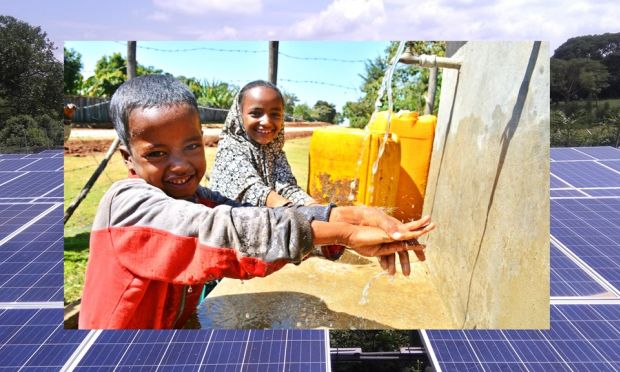 Alhamdu Deli, 5, and Leila Kedir, 6, are among the thousands of children who rejoiced the arrival of clean water in Weshezewyer Kebele of Enemorina Eaner District, Southern Nations Nationalities and People's Region as the solar pumped water supply system was inaugurated in their village recently. The water supply system serves about 5,000 people in the area. Clean water means health, nutrition, uninterrupted school time and overall wellbeing for members of the community like Alhamdu and Leila. Women in the area who travel long distances to fetch water from rivers, which are unfit for drinking, also were relieved of the burden.
This water supply system is among the six major solar powered systems constructed by World Vision Ethiopia just in the past one year, through which 29,030 children and families were benefited. These latest projects show World Vision's commitment and drive for a sustainable solution for the huge water challenge in Ethiopia, mainly due to power source generators. Despite the huge potential for solar powered water supply systems to work efficiently, factors relating to its implementation remain a challenge for organizations like World Vision which actively pursue this approach to reach communities with viable solutions that are environmentally friendly, sustainable and lay minimum or no cost to the community.
Why Solar Pumping?
Water supply systems in Ethiopia have for long been functional with the use of hand pumps, diesel driven generators, and in some instances with the use of grid power. However, experience has shown that these pumping systems have their own multiple limitations to sustainably provide safe water for millions of households across Ethiopia. Electric grid remains available in limited areas, hand pumps provide inadequate amount of water to millions with unreliable sustainability and diesel driven generators are very problematic for operation and maintenance plus the fuel cost is not affordable to the ordinary Ethiopians besides climate pollution concerns.
The long and sometimes unsuccessful process of procuring transformers through the authorized government body has also remained a challenge, leaving some water supply systems uncompleted for months.
World Vision has looked into these factors considering solar pumping as preferred option while devising mechanisms to ensure timely completion and sustainability of water facilities constructed in almost every corner of the country in partnership with the government, donors and community members.
World Vision Ethiopia's Experience
Since adopting solar pumping as one of its reliable means for water facilities, World Vision Ethiopia has constructed solar powered systems in good number of its operation areas. In the past fiscal year 2017 alone, six major solar powered water supply systems have been completed and became operational in Abaya, Enemore, Guraghe Woredas in Southern Nations Nationalities and People's Region, Bui Woreda of Oromia and in Dembia Woreda of Amhara Region. These solar powered water facilities have helped 29, 030 people get access to clean water. There were four solar powered water supply systems installed in previous years.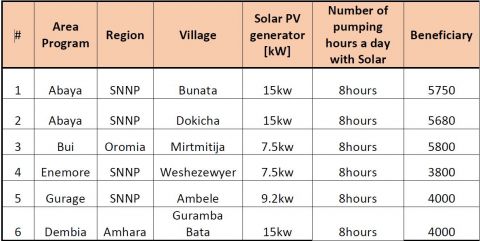 World Vision Ethiopia also implements installation of SQ Flex systems as part of its solar power initiatives.SQ Flex pumping system offers the perfect water supply solution in remote areas where water is scarce and the power supply is non-existent or unreliable. Particularly, this is an ideal solution for schools and healthcare facilities.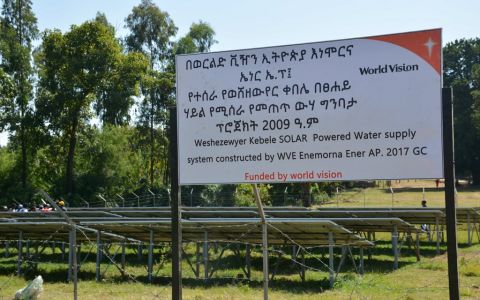 Challenges
As with many new initiatives, introducing solar powered pumping systems comes with unique challenges. Devising a strategy of implementation that is in congruence with policy and strategy of the WaSH sector, World Vision's goals and the best interest of the communities that we serve have been considered in meeting these challenges.
One of the main challenges in successfully implementing this initiative is the long and complicated process of procuring solar power grid materials and custom clearance. Water supply systems that are completed but waiting for custom clearance procedures have delayed good number of projects. This process in turn delays the eagerly awaited arrival of clean water for children and families across rural Ethiopia. Similar processes for procuring transformers also remained a challenge.
Inadequate awareness about the feasibility and potential of solar power for water supply systems, even among WaSH professionals and the lack of contractors with the required technical expertise to implement solar pumped water projects are also among the challenges.
What Next?
Despite the challenges, World Vision Ethiopia is striving to make the best use of the initiative to reach millions with poor access to water and sustainable means of managing the constructed facilities. In the current fiscal year FY18, solar powered water supply system installation will be conducted in 23 sites to serve communities. 16 more sites have also been supplied with solar materials, whose completion could be seen in the next fiscal year.
As a call for action, World Vision urges relevant stakeholders to take action to ease the complicated and costly system of purchasing and clearing of solar power grid materials from overseas to better use our abundant natural resource.
Thousands of children like Alhamdu Deli and their mothers and families who still long for clean water to drink and do household chores depend on our small but powerful actions in addressing bottlenecks for the successful implementation of solar pumping as a sustainable means of water supply provisions.
Written by: Yosef Tiruneh