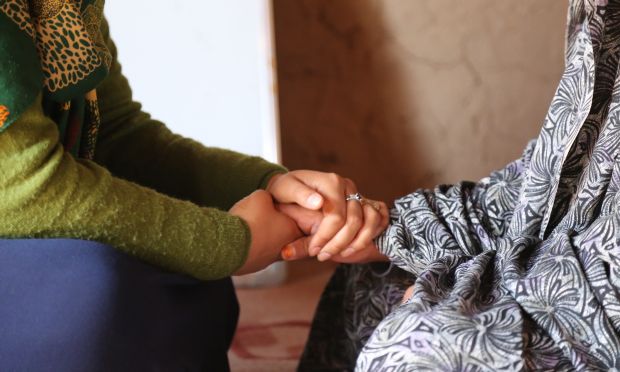 Narmagul felt like her life was over, that she was "destined to live a life of misery". Her father had been injured on the job twice, rendering him unable to work. Her elder brother, who tried to step in as the family's breadwinner after her father's first accident, was killed by a suicide bomber. She was displaced and divorced from an abusive husband. And, she was only 15. Thankfully, she and many others with similar stories have found hope and a second chance through youth clubs, facilitated by World Vision Afghanistan.
"Believe in yourself, don't allow problems to break you. Have a hope for a bright future. Don't keep your problems inside of yourselves. Talk to someone you trust. Enjoy every moment of your life," explains Fareshta, a World Vision Counsellor, sitting in a small muddy room surrounded by a group of young girls.
The girls listen very carefully. Fareshta's words have transported them far from the small muddy room. Their minds, hearts and souls have been taken to a place where they feel stronger, where they are able to bare the heavy burdens of life. Every one of the youth participating in the event has their own heart-wrenching story to tell; many are stories of displacement, violence and abuse.
Once a week, girls and boys between the ages of 12 and 18 gather separately in gender-specific youth clubs where they learn about positive life skills and receive psychosocial counselling.
Among the girls, one stands out. She is confident and immersed in the counsellor's words; repeating every sentence. Her name is Narmagul. The 15-year-old, originally from Ghor province, fled with her family to Herat in search of a life without explosions and killings.
A difficult life
"I remember the sound of a gunshots and the sound of my mother's crying
"I remember the sound of a gunshots and the sound of my mother's crying [while she] hugged my sisters and brothers and prayed," remembers Narmagul, explaining how this scene repeated itself often as gunshots were common where they lived when she was little. Narmagul talks about the sound of the gunshot as if those sounds are still fresh in her mind.
When she was a still a young child, Narmagul's father lost one of his legs in a mine explosion in Ghor. This accident forced her 27-year-old brother who had been working in the mine with his father to migrate to another province in search of higher-paying work—work that never came-as he was among the victims killed by a suicide attack shortly after leaving Ghor.
After these dark days, Narmagul's family fled to Herat in search of a better future and to start a new.
Life; What they found was more pain.
In Ghor, Narmagul's father worked for the government; in Herat, because of his diability, he had to work as a well digger. "One day, when he was digging a well, he hit his foot with a pick. He lost a lot of blood. The cut was very deep and severe… He couldn't work anymore." Narmagul explains, moving her hands to show the sole of her foot to illustrate that scene and how painful it was for her farther.
With her father unable to work and her elder brother dead, the burden of providing for the family fell on her mother. "Every day my mother goes to the city to work in other people's homes. She leaves home [in the] early morning and comes backs when it is almost dark," says Narmagul. "I feel pity for my mother. She is getting weaker day by day," she says with a slow voice.
Poverty; the path to early marriage
Her father's disability caused him to become a nervous person with a violent attitude. Because of the family's poor economic and psychological conditions, Narmagul's father forced her to get married when she was only 13.
"I didn't want to get married,"
"I didn't want to get married," she says. "I wanted to go to school to become a doctor. [My husband] was always looking for any small excuse to beat me," she remembers "One day, he tried to beat me to death. I escaped to my father's house with a bloody face. My father knew that he had made a mistake, so he got a divorce for me," she explains quickly, as if she doesn't want to remember those days.
Narmagul's life never returned to normal. Even after her divorce. She was at home doing chores instead of in a classroom. She saw no future for herself, a situation that drove her to depression.
"I didn't like this world," she recalls. "No one liked me. I was a divorced woman. I didn't have any hope and I had totally forgotten about my dream of being a doctor." Narmagul became convinced that her dream of becoming a doctor was unreachable. "I [believed] I was in this world to experience the dark days and die with misery," she says.
A window of hope
It was in this context of need that World Vision Afghanistan started a project called Emergency Health & Protection for Internally Displace Persons (IDPs) in an area of Herat Province, where Narmagul and hundreds of families like her live.
The project, funded by Global Affairs Canada (GAC), seeks to provide life-saving emergency health services, trauma counselling, psychosocial support and child protection services for internally displaced people (IDPs).
Today, as a result of the project, eight youth clubs have been established where youth receive group and individual counselling and learn life-skill practices. The life skill practices help the boys and girls to take the first steps toward learning more about who they are and how they fit into the world that surrounds and sometimes engulfs then. The life skills training are designed to help youth make positive, lasting changes in their lives.
"Establishing the youth clubs and gathering the youth was not easy at the beginning of the project," says Freshta. "I remember only two girls participated on the first day, but we didn't lose hope. Today, in each of our youth clubs, 25 youth participate without any absentees. Sometimes the need increases, but we can't add them to our sessions because our clubs are very small," she adds.
Then and Now
The youth club where Narmagul lives is a good opportunity to for her to learn how to overcome the difficulties and obstacles in her path.
"I speak with Freshta," she says. "I like her. She teaches me a lot of good things. She told me that I am a valuable person in the family as well as in the world. When I speak with her, I forget my problems and feel I am empty of sorrow and sadness," Narmagul says with visible excitement.
"Narmagul was very silent," remembers Freshta. "She neither spoke with me nor with the other girls at the beginning of the sessions. Gradually, she trusted me. I have never ever forgotten the day she shared the story of her life with me. She cried a lot; she couldn't stop crying. It was as if her small heart didn't have any more capacity to tolerate difficulties. She hugged me and cried… She got better day by day. Now, she is one of my active and smart girls in the club," explains Freshta.
"Freshta encouraged me to go to school. I spoke with my father and he agreed,"
"Freshta encouraged me to go to school. I spoke with my father and he agreed," says Narmagul. "Now I am in class two. I [still] want to be a doctor. Even my father's behaviour has changed since I am going to school. He allowed my younger sister go to school as well. All people have their own problems and I am one of them. It isn't the end of world. I will make my own future. I can change it to make it better and brighter or choose to stay hopeless and dark. I will continue my education to make the future bright for myself and my family," Narmagul explains, with a smile.
Thank you to the Canadian Government, your support for the Afghan people has opened a window of hope in the hearts of youth and given them a hope to make their future better.