The Sustainable Development Goals (SDGs) encourage more cross-sector work within and between organisations, but many organisations face policy, funding, evidence and attitudinal barriers towards integration. Therefore, in order to get serious about achieving the SDGs and solving the complex health problems facing children under two around the world, a focused coalition addressing issues of integration during the first 1,000 days is essential. BabyWASH is meant to serve just this purpose, and to help overcome the barriers many organisations face.
BabyWASH aims to improve well-being in the first 1,000 days by integrating water, sanitation and hygiene (WASH) with nutrition, early childhood development (ECD), and maternal, newborn and child health (MNCH).There are multiple interventions during the first 1,000 day period that can contribute to overall improved well-being.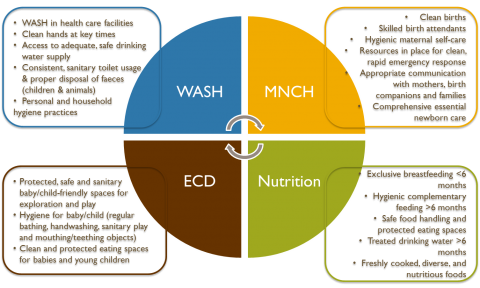 Learn more about the BabyWASH concept and the BabyWASH Coalition by exploring this website and contact us with any questions or to get involved.