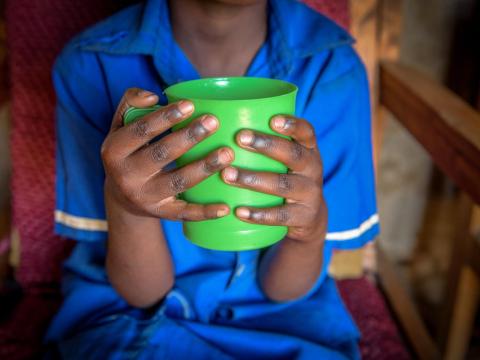 Clean Water
Why Water?
At World Vision we believe that every child deserves clean water. It's the essential building block of life that allows children and their communities to survive and flourish. Our community-based approach gives us deep roots in the community, while our more than 60-year history gives us the longevity and experience to take quality, sustainable interventions to scale.  
World Vision has been working in water, sanitation and hygiene (WASH) for more than 50 years, starting in the 1960s primarily with small water projects in individual communities. We gained much experience in the subsequent decades, including a significant scale-up through the West Africa Water Initiative – a large public-private partnership, where World Vision served as the lead non-governmental organisation. In 2010, World Vision made a strategic decision to scale up its investment in WASH, making an increased, targeted investment in WASH in 12 countries with high WASH need – ten in Africa, one in Latin America, and one in Asia. Because of this strategic investment, over the last 5 years we have reached more that 7 million people with water, sanitation and hygiene, specifically providing safe drinking water to more than 5.5 million people.
The ultimate goal of all of World Vision's work is child well-being. Child well-being at World Vision is defined by the following four targets:
Children enjoy good health.
Children are educated for life.
Children experience the love of God and their neighbours
Children are cared for, protected and participating.
World Vision believes that sustainable well-being is impossible without sustainable, equitable access to clean water, dignified sanitation and appropriate hygiene behaviours.
In our clean water work, we strive to provide access to clean water as close as possible to households -- with a maximum of 30 minutes round trip. We build water points in partnership with communities, and we work to ensure that water points are locally managed through water committees. Those committees ensure that water user fees are collected to maintain and repair the well. 
We also work to provide environmentally sustainable solutions to water access, using solar water pumping technology wherever possible to provide access to clean water using renewable energy sources. 
We also work to ensure water is kept clean from the source to the point of use, ensuring community members have the knowledge and resources necessary to collect, treat and use their water safety to protect them from drinking contaminated water. 
We also provide clean water in schools and healthcare facilities. Water access in schools ensures that students and staff have easy access to the water they need for drinking and other school activities. Households nearby will also collect water from these water points.
In healthcare facilities, water is an absolutely critical resources for the health and well-being of both patients and staff. Water is provided to the whole facility, with an emphasis on critical points of care -- such as delivery rooms -- so providers can wash their hands and keep facilities and instruments clean to care well for their patients and protect themselves.