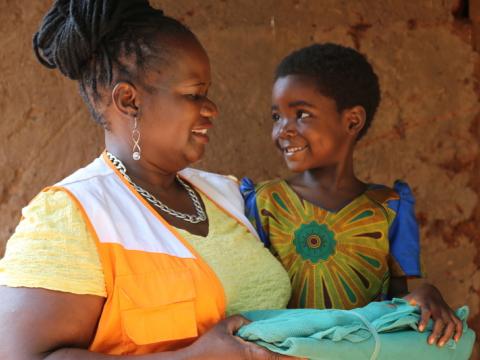 Menstrual Hygiene
Menstrual Hygiene is vital to the empowerment and well-being of women and girls worldwide. It is about more than just access to sanitary pads and appropriate toilets – though those are important. It is also about ensuring women and girls live in an environment that values and supports their ability to manage their menstruation with dignity.
What is Menstrual Hygiene? 
Menstrual Hygiene Management (MHM) is defined as:
"Women and adolescent girls are using clean menstrual management materials to absorb or collect blood that can be changed in privacy as often as necessary for the duration of the menstruation period, using soap and water for washing the body as required, and having access to facilities to dispose of used menstrual management materials" (JMP 2012). 
Globally, at least 500 million women and girls lack proper access to menstrual hygiene facilities. Several factors influence difficult experiences with menstruation, including inadequate facilities and materials, menstrual pain, fear of disclosure, and inadequate knowledge about the menstrual cycle (World Bank 2018).  
In India, only 1 in every 2 girls have knowledge about menstruation before their first period. In Tanzania and Ethiopia, only 1 in every 4 girls know about it before their first period. 

In Uganda, 1 out of 2 girls report missing one to three days of school per month due to menstruation.

In India, for 1 out of 2 girls, mothers are the most important source of information about menstruation, followed by friends. (MH Day 2019)
Menstrual Hygiene Day 2019 
May 28 is Menstrual Hygiene Day (MH Day); a day dedicated to bringing awareness around the vital role that good menstrual hygiene management (MHM) plays in empowering women and adolescent girls worldwide to become all that they can be. The vision behind MH Day is a world in which every woman and girl is able to manage her menstruation in a hygienic way- in safety, privacy, and with dignity- wherever they are.
Webinar Series 
In 2018, World Vision together with WASH United, Simavi and GIZ launched a webinar series on menstrual hygiene, an activity under the MH Alliance. MHM experts Marni Sommer (Columbia University) and Chris Bobel (Society for Menstruation Research) kicked off the webinar, followed subsequently with presentations by organizations working in Asia and Africa.
Click on the link to access the recordings and summary documents from the 2018 five part webinar series on Menstrual Hygiene MH Webinar Brief Compiled_FINAL.pdf
How is World Vision Engaging in Menstrual Hygiene? 
At World Vision, we aim to ensure that all women and girls can safely manage their menstrual health with dignity. Below are a few examples of how World Vision is engaging in menstrual hygiene programming. 
World Vision India has engaged intentionally in menstrual health and hygiene education, targeting adolescent girls, teachers, health workers, parents and community groups across several states in India. This includes tools and curricula such as the 

Reproductive Health Toolkit

 in 2015 for girls and boys, and a 

Making Schools Gender-Friendly Guidebook

in 2017.
In 2015, World Vision Kenya launched the 

Standing with the Girls

 campaign focused on raising funds and promoting awareness to support girls during their menstrual period. Another World Vision Menstrual Health Management campaign is the

Taking a Stand for Girls in India and Kenya

.
World Vision Zambia is acting on 2014 research:

Investigating the Perceptions and Barriers to Menstrual Hygiene Management (MHM) in Zambia

, 

which concluded that male teachers and school boys needed to be more informed regarding MHM, and that girls needed to be provided with a safe, comfortable space to learn about their own bodies. The research also recommended that school curricula needed to include more information surrounding MHM.
All of World Vision's school WASH programmes now require that school sanitation facilities are MHM friendly, which include sex-separated toilets, bathing facilities, and access to water and soap for personal cleaning for girl students and female teachers.
Related materials
Learning Brief: Menstrual Hygiene Management in Schools
Menstrual Hygiene Campaign materials
MH Webinar Brief Compiled_FINAL.pdf