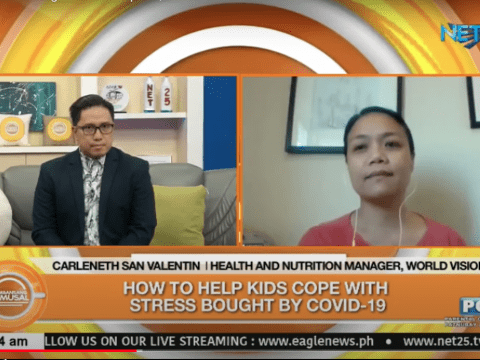 COVID-19: Communicating and engaging with communities remotely through television
The 2019 Social Weather Stations survey result revealed that television still remains the top source of information in the Philippines - with 60% of Filipino adults or around 40 million individuals getting news through it. This is despite the growing usage of the internet in the country. Another survey conducted by Kantar Media in 2016 showed that 96.6% of Filipinos watch TV daily, devoting 3.7 hours in front of their TV sets. One of the reasons mentioned in the medium's accessibility in rural areas.
As part of the COVID-19 response, World Vision aims to share life-saving information to people through its partnership with TV networks.

The partnership allowed Infection Prevention and Control messaging (IPC) produced by World Vision to be aired for free and also guesting on Edutainment shows that give practical tips on caring for children during emergencies like COVID-19.
Light TV has a cumulative reach of 3.3 million nationwide. The majority of its viewers (60.56%) are aged 20-34, the young adults and professionals. Light TV has been a long-time partner of World Vision in the Philippines, supportive of the organization's endeavours. Its network, Zoe Broadcasting Network, Inc. (Zoe) is presently on its 23rd year of Christian, family-oriented, and wholesome television and radio broadcasting.
Another partner is Net25, – the television arm of Eagle Broadcasting Company, pioneered all-digital broadcasting in the Philippines. It's on terrestrial TV in Metro Manila, and with simulcast provincial stations broadcasting all of its programs via satellite.
Net25 has guested World Vision health and nutrition manager in its Edutainment program, Pambansang Almusal, to give updates on WV's works and tips on keeping children safe and healthy in the time of COVID-19. Both Net 25 and Light TV, are carried by major cable operators in the country.