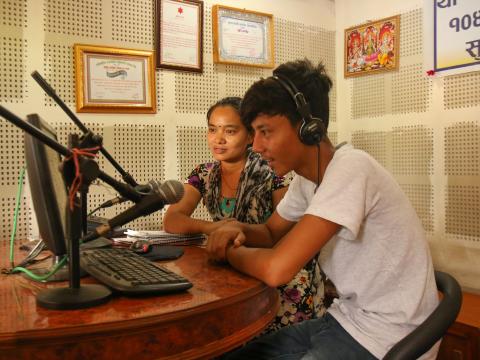 COVID-19: Communicating and engaging with communities remotely through radio
Radio has become the most popular and effective medium for information dissemination to a larger audience in a landlocked country like Nepal. It is a favoured medium used by humanitarian organisations to share messaging oh hygiene, nutrition, education, health, etc. Undoubtedly people in urban areas prefer television and social media over the radio, but a large chunk of Nepal's population (around two-third of the total population) still lives in rural parts of the country and radio is the most accessible and reliable source of information for them. Rural population comparatively have less access to information and rely mainly on the radio as their source of information, although the use of television and mobile phones are on an increasing trend with the improved access to electricity across the country.
Established in 2002, ACROAB is the largest network of community radios in the country with the capacity to reach over 15 million people through its 300 + stations across 77 districts of Nepal. World Vision has been partnering with ACORAB since 2017 for the "It Takes Nepal to End Child Marriage" campaign. ACORAB is the largest network of community radios in Nepal besides state-owned station Radio Nepal. It is an autonomous and politically non-partisan organisation. Being an active partner of World Vision, ACORAB also contributes financially (usually around 10-20% of the total) and takes equal ownership of any initiatives.
In the wake of the COVID-19 crisis, where social distancing is vital, radio enables World Vision and its partners to reach a wider audience with critical information that can be lifesaving, inform change in behaviour. It provides a platform for discussion on a range of topics including, receiving and responding to feedback on our work. Read a brief study here.
Amidst growing concerns about the spread of COVID-19 in the country, the Government of Nepal implemented nation-wide lockdown to limit the spread of the coronavirus. World Vision, an active development/humanitarian partner of the GoN, developed a three-month-long comprehensive emergency response plan to scale up the government's preventive efforts to limit the spread of the virus in the country, and support children, women, and the most vulnerable families impacted by COVID-19. First, 30 days of the response focused on supplying much needed PPE to health facilities and medical professionals, and support the government on preventive messaging through traditional and social media. To amplify preventive messaging during and beyond 30 days, World Vision has partnered with the Association of Community Radio Broadcasters Nepal (ACORAB) that works to advance the cause of community radio, facilitates the sharing of knowledge and resources, and speaks with one voice for the community it represents.
"Listening to the PSAs, we learned we should teach our children small household tasks, motivate them to read storybooks, prepare a daily plan and follow them during the lockdown so they don't feel bored at home. Now my children are doing this," Tilak Bahadur Shahi, Kirtipur, Nepal.
"Especially for people in rural areas, radio has become a friend they can listen to anytime during the lockdown, while inside the house or at the field, working. People can understand messages related to COVID-19 easily as they are broadcast frequently in the local language and different forms. Radio has become a reliable source of information," Deepak Acharya, Manager, ACORAB.