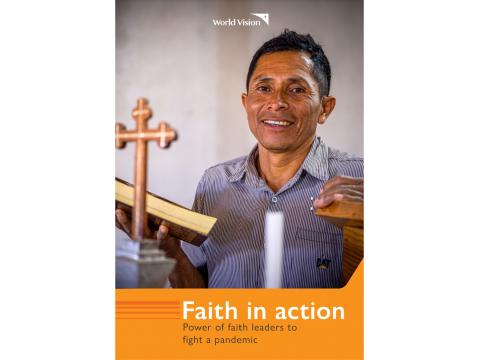 Faith in action: Power of faith leaders to fight a pandemic
Tuesday, February 16, 2021
Faith leaders and faith communities are at the forefront of the COVID-19 Response, identifying and supporting the most vulnerable children and young people in their communities. In an unprecedented era of misinformation, disinformation, conspiracies, and confusion,  these faith leaders must play a  pivotal role in leveraging their platforms as we enter the vaccine phase of the response. 
This report outlines the unique and critical role that faith actors are already playing, shared evidence and learning from past responses, and makes key recommendations on the role they must continue to play as we enter the vaccine phase of the response.
Key facts from the report
World Vision has a network of 450,000 faith leaders in network equipped to respond to child well-being challenges in their communities.
More than 124,000 faith leaders partnering to disseminate accurate health information in the COVID-19 Response
World Vision is already partnering with more than 124,000 faith leaders in care and prevention campaigns. 
Key findings in this report:
84% of faith leader survey respondents reported sharing health and hygiene practices with their congregations and/or communities
52% actively correcting misinformation about COVID-19