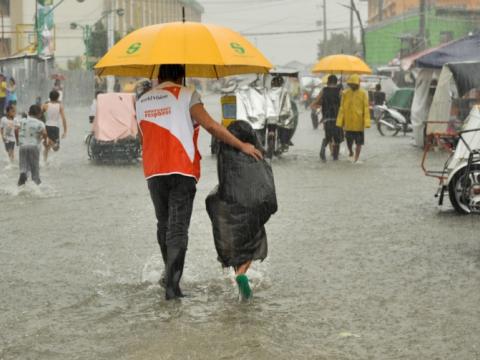 Our sectors
Our approach to disaster management means we are active before, during and after disasters strike to save lives and reduce human suffering, protect and restore livelihoods and reduce the risks faced by communities affected by disaster and conflict. With more than 50 years of experience responding to emergencies around the world, our emergency programs are designed to address the most pressing needs of disaster-affected populations.
Children in emergencies
As a child-focused organisation, our vision is for every child to experience life in all its fullness. Central to this vision is the protection of children from all forms of abuse and exploitation as well as the fulfilment of opportunities to develop and reach that fullness of life. Children in emergencies programming addresses both the protection of children as well as the education of children in emergency contexts. There are four main components of our Children in Emergencies program:
Providing protection and support for children in emergencies through our Child Friendly Spaces
Programming focused on assisting children who have been separated from their families, including family tracing and reunification as well as interim and alternative care
Education in Emergencies to give children the opportunity to learn and continue their education.
Building child protection capacity within the community
Through food assistance, we aim to improve access to food and nutritional well-being for the food insecure. Our approach is needs driven and tailored to context.
We provide life-saving food assistance to an average of 1.3 million hungry people each month in over 30 countries. Our US$201 million program includes food distribution (including locally and regionally sourced food), cash and voucher-based programming supporting vulnerable group feeding, integrated school feeding, and Food for Assets and Food for Work to strengthen household and community resilience. We are one of the largest non-governmental organisation partners of the United Nations World Food Programme in food assistance.
Alongside this programming, we partner with like-minded individuals and organisations to draw attention to the causes of food insecurity and advocate for a change at policy level.
Disasters, either man‐made or related to natural events, carry significant impact on the health and well‐being of affected populations, especially those who are already vulnerable. Humanitarian emergencies are often associated with breakdown of existing health services, disruption of access to water, poor sanitation, displacement of the populations, and overcrowded living conditions, resulting in rapid deterioration of communities' health with increased incidence of diseases and excess loss of life.
During humanitarian emergencies we work in collaboration with Ministry of Health, the WHO, the Health Cluster to reduce morbidity and mortality. Our programming seeks to ensure mothers and children are well-nourished, protected from infection and diseases and have access to essential health services.
Learn more about how we've adapted our nutrition programming to reach children within conflict-affected contexts, in this case study from South Sudan.
Every week more than 34,000 people die from diarrhoeal diseases arising from a lack of access to safe drinking water and basic sanitation. 90% of these are children under 5. (WHO, 2004)
In a natural or man-made emergency, access to water and sanitation is often disrupted. Children and families affected by disaster may be living in a new or changed environment, where their normal hygiene practices are no longer possible, or are insufficient.
Our WASH programs aim to give disaster-affected communities access to clean water and adequate sanitation and promote personal hygiene practices to protect health. We work with the disaster-affected population in order to identify key hygiene problems and culturally appropriate solutions. In an emergency context our WASH activities include:
Hygiene promotion and behaviour change. In a disaster response, much can be achieved through the promotion of good hygiene practices and by addressing risky hygiene behaviours.
Improving facilities. Providing suitable facilities in disaster contexts is critical life-saving intervention. World Vision works in these contexts to ensure people have access to sufficient, safe and affordable water and appropriate sanitation facilities.
Establishing an enabling environment. We work with the community and supportive external institutions to develop the structures necessary for the ongoing and effective use, operation and maintenance of WASH services.
According to the needs and context of the disaster, our response may also include the following activities:
Humanitarian advocacy
Humanitarian protection
Distribution of essential relief supplies
Livelihoods and economic development