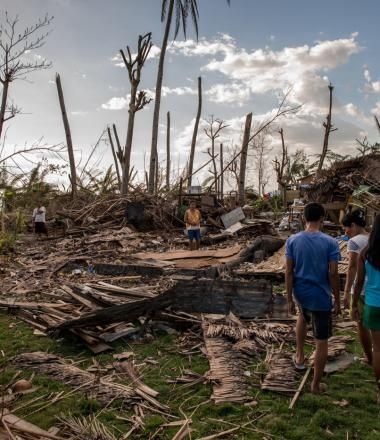 DISASTER MANAGEMENT
Our Work
The focus of our work in Disaster Management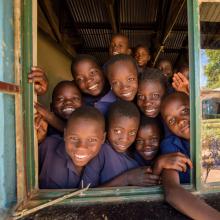 Protection & Education
Humanitarian emergencies have devastating effects on children and we know they are the most vulnerable. Whether during the early stages of a fast onset disaster, years into a long drawn out conflict driven crisis or in the rehabilitation phase of an emergency.
We design and deliver our efforts so as children can have a safe place to be & play, be reunited with their families, eat and have shelter, meet friends and go to school and understand what their rights are and ways to speak out for themselves to governments, donors and decision makers who can change the course of their destiny.
In Cox's Bazaar, we have been running 12 child-friendly spaces for since 2018. Some 1,300 children come to these centres each week to play and learn. In February 2019, we opened the first of 21 multi-purpose centres for children and adolescents in partnership with UNICEF. These centres will offer literacy and numeracy training for adolescents, as well as pre-vocational skills training.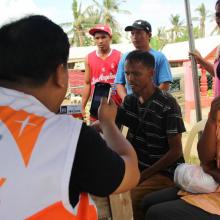 Technology & Innovation
In a time of crisis, people want to know where their loved ones are and that they are safe and they want access to aid as quickly as possible so they can start rebuilding their lives.  Through our wise use of digital technology, we help families be reunited and enable families to have access to the aid they need, when they need it.
Our continued growth in using digital services enable us to deliver aid faster, cheaper, and better to some of the most vulnerable people on earth. But we don't just keep digital to ourselves, we work with communities so enable them to safely harness the transformational opportunities digital can offer them. Digital services can offer the most vulnerable opportunities to grow local entrepreneurship, better livelihoods for families, jobs for youth and critically better education and life skills for children.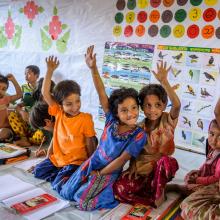 Health & Hunger
For many children who fall victim to severe malnutrition at various stages of conflict crisis, it isn't directly the conflict or the emergency that put them at risk. But more often the conflict has made their families' existence more precarious, and when they aren't eating well, one Illness is all it takes to push them onto the slippery slope of malnutrition.
3.2 million people are currently food insecure in the provinces of Kasai, and at least 400,000 children under five are suffering from severe acute malnutrition.  Families have spent three growing seasons on the run, and children desperately need help to process their experiences of the conflict, get back into education, and get enough to eat. From October 2018, our response has scaled up nutrition work to 126 health centres, treating moderate and acute malnutrition. In 2018, we helped families get enough to eat, reaching over 550,000 people. We also reached over 54,000 children under 5 to treat and prevent malnutrition.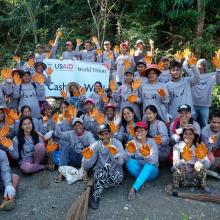 Revolutionising Cash
The humanitarian landscape has dramatically shifted over the last years such that multi-purpose cash and voucher programming is seen as the best opportunity to address most basic needs for survival.
So increasingly we give cash rather than goods or food because this lets children and families buy what they need, allowing them more dignity and greater resilience. In 2018 Cash and voucher enabled programming impacted 3 million people with almost 1.5 million of them children.
South Sudan and Somalia saw a significant decrease in child mortality (aged 6–23 months) with unconditional cash which led to increased food security and a more diverse and nutritious diet.
Cash assistance produced multiple positive social impacts during our response to the Syria Crisis in Lebanon. School enrolment and retention increased 50% and the incidence of child labour decreased. Households receiving cash assistance were half as likely to send their children to work as households not receiving that assistance.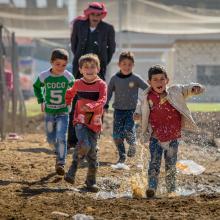 Advocacy in Crises
We want children and youth to know that it is their right to live without violence and to stand up for one another—and for us to support them when they do. Our dream for every child is simple: to thrive without the experience of violence. The chance to play, to go to school, to be healthy, to make friends, to be loved and, above all else, to be safe from harm.
So to make this happen, we include and amplify the voices of children living in fragile places, at every opportunity. From grassroots social accountability programming to advocacy and campaigning, World Vision seeks to raise the voices of children affected by disasters, emergencies and conflicts, all the while ensuring that children's voices are helping to shaping both local and global future humanitarian policy.
Last year we worked with like-minded partners, faith leaders and governments to ensure that children's rights and protection were central to the new Global Compact on Refugees. Our biggest impact was strong, protection focused language on child rights in the final Compact document attributable to our collective inputs. To support these efforts we released a flagship report 'On the Road to Somewhere'. The report was based on our experience working with displaced children across multiple countries and recommended solutions for ending violence against children on the move and reducing vulnerability of children affected by displacement as a result of conflict.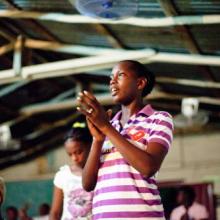 Faith in Emergencies
Working with faith leaders before, during or after an emergency whatever the nature or making means a wider, deeper reach and impact to affected communities.
In Sierra Leone in 2014, through Channels of Hope for Ebola, Faith leaders became powerful messengers, agents of change and united to combat Ebola showing a united front as they share information and promote safe and dignified burial practices.