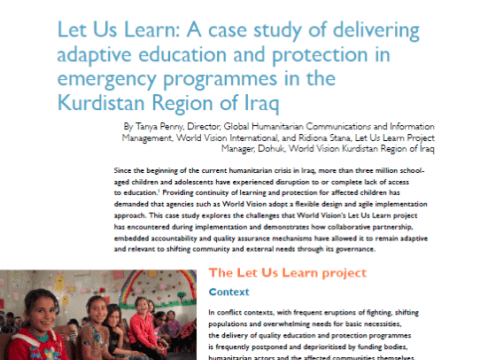 Let Us Learn: A case study of delivering adaptive education and protection in emergency programmes in the Kurdistan Region of Iraq
Thursday, April 28, 2016
Since the beginning of the current humanitarian crisis in Iraq, more than three million school-aged children and adolescents have experienced disruption to their education. Providing continuity of learning and protection for affected children demands that agencies such as World Vision adopt a flexible design and agile implementation approach.
In February 2015, World Vision commenced the Let Us Learn project to support 12,240 internally displaced people living in the Berseve I and Berseve II camps, and in host communities in the Dohuk governorate of the Kurdistan Region of Iraq (KRI).
The project aims to deliver education and child protection interventions that contribute to the learning continuity, psychosocial well-being and increased resilience of children affected by displacement.
Let Us Learn was designed around two core outcomes:
Children affected by displacement have equitable access to quality basic education and psychosocial support in a protective learning environment.
Communities strengthen their involvement, ownership and capacity to promote education and safeguard their children's protection and well-being within learning spaces and the wider community.
These outcomes are addressed through a series of non-formal education, resilience and life skills, literacy and child protection activities. They are delivered through camp-based child friendly learning spaces (CFLS) with a dimension of the programme carried out in host community, non-camp settings.
As part of World Vision's Education in Emergencies (EiE) approach, Let Us Learn places significant emphasis on community participation, consultation, accountability and quality assurance during the project's design and implementation. This project is based on the principle that the best and most sustainable solutions occur when the voice of the community is heard and considered.
The focus on participation at all levels – students, teachers and facilitators, implementing partners, donors, cluster members and local authorities – is critical to working in a fragile context, and remaining responsive to the changing needs of IDPs. Each area of the Let Us Learn project faced challenges, some of which could be deemed predictable within a post-conflict fragile setting and others that were unique to the context and project interventions.  
This case study explores the challenges the Let Us Learn project encountered during implementation, and demonstrates how collaborative partnerships, embedded accountability and quality assurance mechanisms have allowed it to remain adaptive and relevant to shifting community and external needs through its governance.
Read more:
The World Vision Let Us Learn project was made possible with the support of our partners Aktion Deatschland Hiltft and Public Aid Organisation.