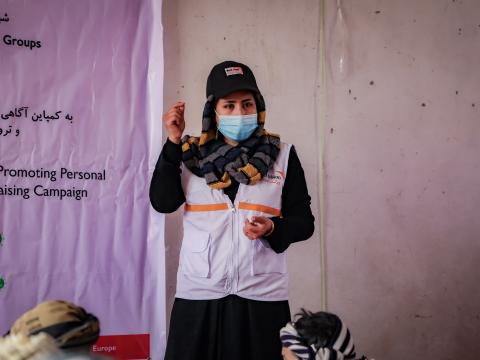 How awareness raising campaigns is helping to fight the pandemic
Monday, May 31, 2021
With the spread of the coronavirus in the world, Afghanistan was no exception and quickly became infected. Limited health facilities, difficult access to health services and poor hygiene practice also raised concerns.
As part of the Response, World Vision Afghanistan, with support from WV Canada, conducted COVID-19 Infection Prevention and promoting Personal and Environmental Hygiene Practice Awareness Raising Campaign to communities in 20 villages in Herat province, Afghanistan and distributed hygiene kit to participants.
Najmuddin, 70, lives in Malan village in Herat Afghanistan. He and his seven family members are farmers and live together in one house. He participated in the awareness campaign. Najmuddin learnt prevention measures against COVID-19, "At my age if I get infected of COVID-19, I may die. This campaign helps me to protect myself from the disease as I know to frequently wash my hands with soap, use a mask when going outside and maintain a physical distance," he said. If we get sick, we should stay at home, keep our distance from others, and not go to crowded places," Najmuddin added.
"The people's involvement in COVID-19 campaign is vital to detect symptoms, prevent the spread and initiate control measures in areas with no health facilities to ensure that diseases are reported early to the health authorities for a quick response," says Rezaee, World Vision Campaign Facilitator.
Household-level hygiene is a priority in the entire programme. This component will target basic hygiene and sanitation behaviours at the household and community levels, including proper disposal of human waste, hand-washing practices, safe storage of water at the household level.
Najmuddin shares, "Unfortunately, many in my community still cling to unhealthy cultural beliefs that need to be changed. Most of them do not know about the importance of hygiene practices and COVID-19 measuring and do not observe them." He adds, "After the awareness conducted by World Vision, people are slowly adapting to the guidelines which are a good sign. As a community member, I started the effort to share what I have learned to my family and my relatives especially children who are the future of the country."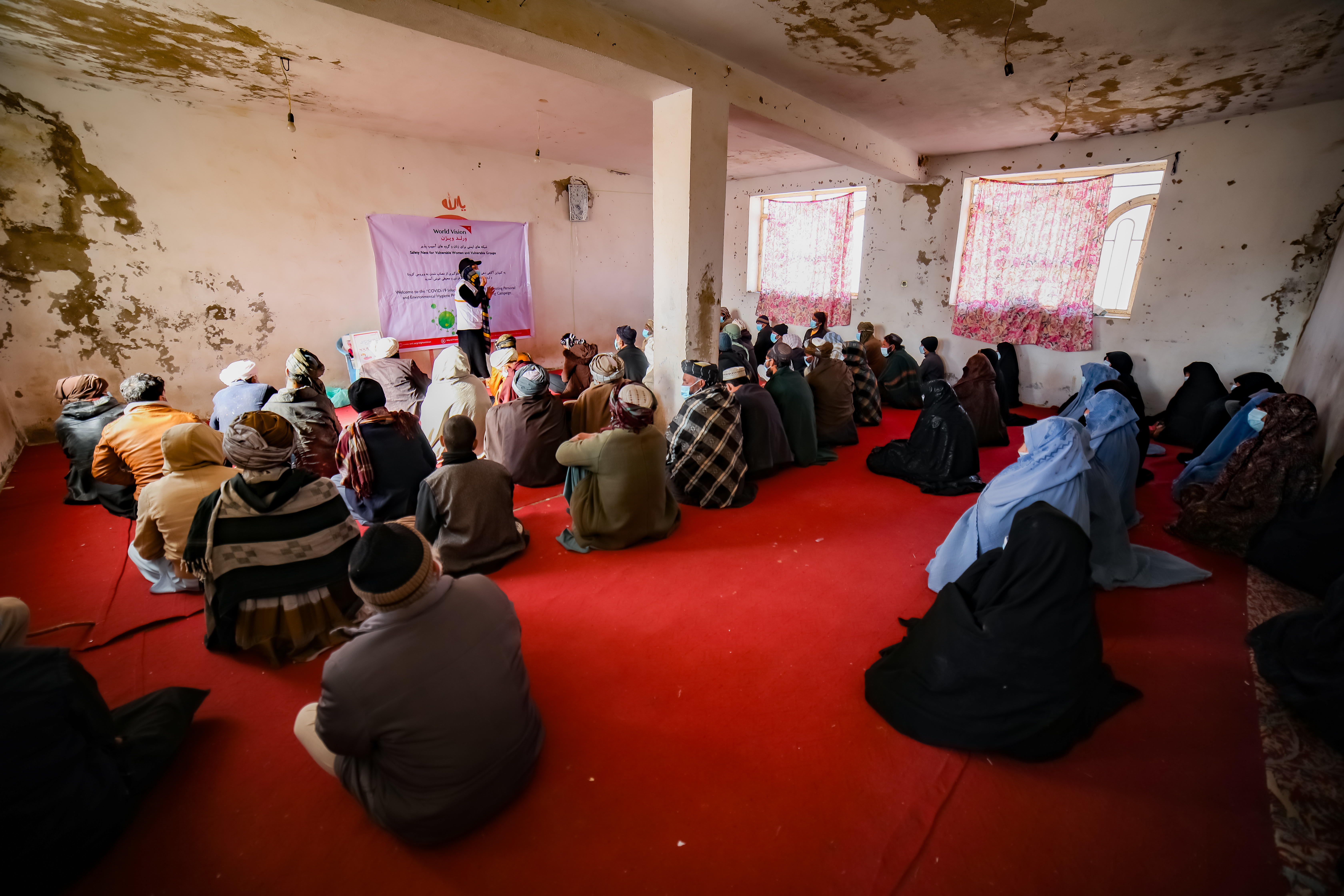 Better hygiene for better future
One of the most effective ways to save children's lives is by teaching them proper hygiene practices – especially regular handwashing with water and soap. Without these, children can suffer from diarrhoea and stunting (which means low weight for age and delayed cerebral development).
World Vision Afghanistan actively engages with community members to promote good hygiene behaviours. Together with the community, we work to educate people on good hygiene and promote long-lasting healthy habits.
World Vision Afghanistan continues to respond to the COVID-19 global pandemic. Focusing on supporting the Government of Afghanistan (GoA) to scale up preventive measures to limit the spread of COVID-19, World Vision Afghanistan supplied much-needed medical and hygiene kits including Personal Protective Equipment (PPE) to the public health institutions and administrations.
Besides, World Vision Afghanistan disseminated behavioural change messages about the prevention of coronavirus through faith leaders and existing community networks. A number of preventive actions implemented across three provinces of Afghanistan through three zonal offices reached approximately 310,335 people, including 159,000 of the most vulnerable children. Please find more about the response here.
World Vision is committed to the COVID-19 Vaccination Campaign – As the rejection rate of routine vaccine is high and communities are suspicious of immunization activities, therefore WV will focus on socializing communities to accept a vaccine when it is rolled out. World Vision would aim to prioritize support with faith leaders, health Shuras and community health workers in doing so.
World Vision Afghanistan strives and advocates promoting COVID-19 Vaccination Campaign, and ensures all vulnerable communities and staff get the vaccine. With the support of the Department of Public Health in Herat, staff received the first doses of this vaccine. WV Afghanistan continues to advocate with all the stakeholders to make vaccines accessible to the most vulnerable population living in the hard to reach areas.