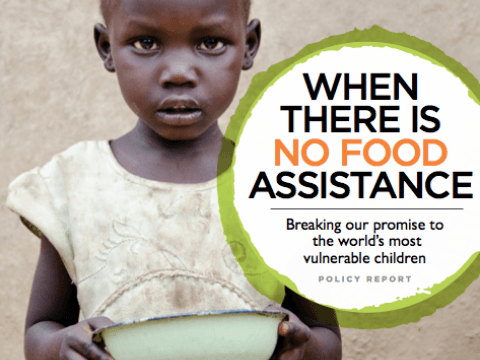 When there is no food assistance
Wednesday, November 25, 2015
In the face of the global El Nino and other crises, leaders at the national, regional and international levels have an unprecedented opportunity and responsibility to address the underlying causes of food insecurity and guarantee that the most vulnerable children and communities get a head start through an immediate, effective, global response to prevent loss of life and livelihoods. Only such a response can ensure that no one is left behind and that countries can meet their commitments outlined in the United Nations' 2030 Agenda for Sustainable Development[1] and secure a hunger-free world for children.
To ensure no one is left behind World Vision recommends:
1. FIND NEW MONEY TO FUND EMERGENCIES
The gap between humanitarian needs and available funding is the largest it has been in 10 years. Breaks in global food assistance pipelines due to funding shortages cannot remain an option; it simply deepens an existing emergency in the hope of mitigating the effects of another emergency, with the world's most vulnerable children paying the price.
2. SAVE LIVES AND PROTECT LIVELIHOODS
Preventing poor nutrition in the first 1000 days of a child's life (from conception to age 2) must be a priority as poor nutrition during this period can have lifelong, irreversible physical and cognitive consequences. Urgently needed are investments in health services; targeted supplementary feeding programmes to both prevent and treat child undernutrition, social protection measures such as cash transfers and public work programmes, and livelihoods support.
3. BUILD LONG TERM RESILIENCE
A hunger-free world requires building household and community food security and resilience to phenomena like El Niño. This means greater investments in child-sensitive national safety nets programmes, national disaster risk management and climate change adaptation policies and systems and greater support for sustainable, profitable, agricultural livelihoods strategies for small-holder farmers.
[1] Agenda 2030 for Sustainable Development consists of 17 Sustainable Development Goals and 169 targets adapted in September 2015 as a new universal Agenda, which seeks to build on the Millennium Development Goals: https://sustainabledevelopment.un.org/post2015/transformingourworld