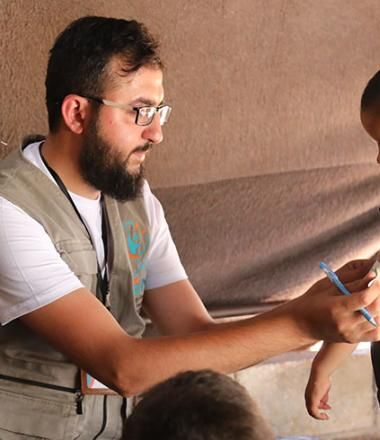 Global Hunger Crisis Response in Ethiopia, Somalia, South Sudan, Syria and Yemen
Funded by

Key figures
Total target beneficiaries in Ethiopia, Somalia, South Sudan, Syria, and Yemen
People reached through nutrition interventions in Syria
Goals and objectives
The "Global Hunger Crisis Response in Ethiopia, Somalia, South Sudan, Syria and Yemen" project funded by Global Affairs Canada aims to reduce vulnerability, increased and maintained human dignity (especially for women and girls), and vulnerable lives saved of displaced populations affected by the hunger crisis in Ethiopia and South Sudan, Somalia, Syria and Yemen by increasing access to curative and preventive quality emergency health and nutrition services to prevent, identify and treat acute malnourished children under five years and PLWs while mitigating poor health outcomes.
This multi-sectoral and gender-responsive project has three outcomes: 
Increased equitable access for girls, boys, women, and men to essential emergency gender-responsive health care, protection, and nutrition service

Improved access to essential gender responsive, life-saving water and sanitation services, to integrate both safe water and sanitation support to provide a holistic response to the needs and risks within the communities and health centres with limited or no WASH infrastructure, and 

Improved nutrition intake through context-appropriate and gender-responsive emergency food security and livelihoods interventions and seek to provide lifesaving measures to address household nutritional status in Ethiopia, South Sudan, Somalia, and Syria.
Key actions
Support primary health centres, nutrition sites, and Rapid Response Teams, to enable health centres to respond to the urgent nutritional needs of vulnerable people.

Provide targeted Supplementary Feeding program (TSFP) to treat and manage Moderate Acute Malnutrition (MAM) in Children under-five

Establish and support Women and Girl Friendly Spaces/Child Friendly Spaces, protection committees, case management for Unaccompanied and Separated Children, and awareness campaigns through context-appropriate methods

Building and rehabilitate sanitation facilities in health centres

Provide clean portable water through potable water trucks or infrastructure work

Unconditional multipurpose cash will be provided to vulnerable households in Somalia and Syria targeting vulnerable households with malnourished children to increase immediate household nutrition.
Project duration in Syria
September 2022 to September 2023 
Project location in Syria
Idleb Governorate and surroundings 
Implementing partner in Syria
Syrian Expatriates Medical Association