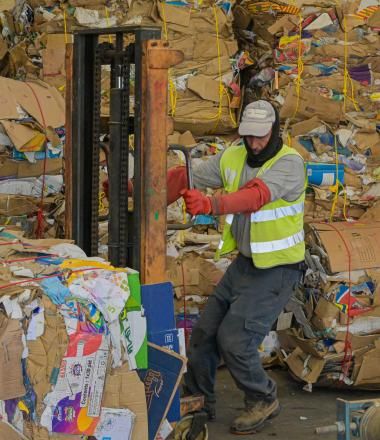 Increase Economic Self-Reliance of Azraq Camp Refugees Through Environmentally Responsible Solid Waste Management Incentive-Based Volunteer Activities
Funded by

Key figures
Syrian refugees are directly benefitting from being engaged in incentivised based work activities
Goals and objectives
The "Increase Economic Self-reliance of Azraq Camp Refugees Through Environmentally Responsible Solid Waste Management Incentive-Based Volunteer Activities" project funded by GIZ aims to contribute to enhanced economic situation, environmental conditions and health for Syrian refugees in Azraq Camp through environmentally friendly solid waste management (SWM) services value chain. The project will support refugees to strengthen their economic self-reliance through incentive-based volunteer (IBV) income from the SWM services value chain in Azraq camp.
Key actions
The project promotes an integrated approach, supporting the beneficiaries involved in IBV work to achieve economic self-sufficiency through increased access to supplementary income opportunities and a streamlined value chain SWM in collaboration with private sector. The IBV program allows the refugees to play an active role in the functioning of the camp while simultaneously earning an income to supplement the cash distributions they receive. 
The IBV programme will be based on two main components: the core SWM activities with the engaged IBVs participating in the entire waste management cycle – through collection, sorting, litter picking and removal; and the community sensitisation campaigns for waste segregation at the household level.
Project duration
January 2020 to August 2024 
Project location
Azraq Refugee Camp in Jordan