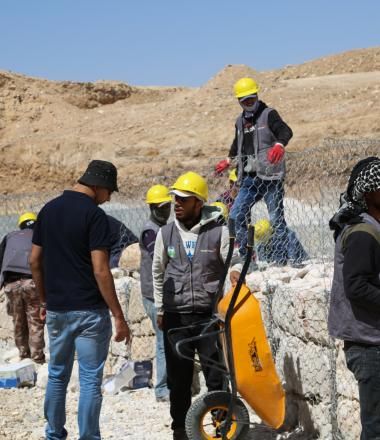 Protection of Al Wahedi Dam in Jordan through Labour-intensive Activities
Funded by

Key figures
vulnerable Jordanians, Syrian refugees, and community members will directly benefit from cash-for-work activities and awareness raising sessions
Goals and objectives
The "Protection of Al Wahedi Dam in Jordan Through Labour-Intensive Activities" projected funded by GIZ aims to reduce the impact of floods at Al Wahedi Dam by minimising landslides and improving the downstream drainage through labour-intensive cash-for-work opportunities. 
The project will 1) increase access to income generation opportunities to vulnerable Syrian Refugees and host community members in the sub-district of Qasabet Maan, 2) improve the drainage capacity, control soil erosion and minimize landslides using soil stabilization techniques at the downstream area of the Al Wahedi Damm and 3) increase the awareness of the local community in the targeted area about floods and landslide-related risks, drainage improvement and water conservation techniques.
Key actions
Cash-for-work beneficiaries will be engaged in two areas: the construction of structures downstream of the dam and community awareness raising.
Construction activities will involve skill and unskilled labour focusing on  soil stabilisation controlling the water flow and improving drainage capacity.
The awareness raising sessions will focus on flood mitigation around the downstream area, dam safety awareness, simple techniques to avoid soil erosion and landslides, keeping the environment clean and water conservation.
World Vision will also provide information sharing sessions to the workers during each cycle about the labour market and about livelihood opportunities. Workers will furthermore be invited to participate in monthly employability skills trainings. The training will cover job search skills, interview skills, CV writing, how and where workers can get labour market information, and linking them to other service providers if available.
Project duration
November 2022 to March 2024 
Project location
The Al Wahedi dam is located in Ma'an, Jordan