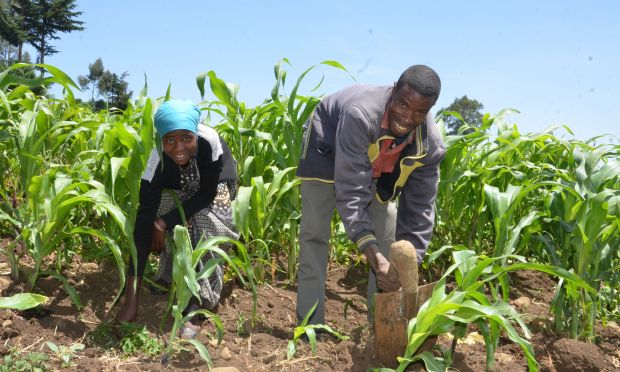 When crops fail, children drop out of school, families go hungry and the future seems bleak.
Drought in Ethiopia is affecting 7.78 million people and many families who rely on agriculture to survive are struggling.
Iftu, a 27-year-old mother of two, is one of the farmers who is among the worst affected.
"Last year was the hardest and saddest time in my life. The entire wheat crop failed due to frost and fungal disease. I had nothing to feed my children. I lost hope," Iftu says.
Thoughts of the future were depressing. Iftu began working on construction sites, carrying bags of cement and bundles of wood for a few Birr each day. It was not enough.
Money to buy seeds, for the next season's crops, to restart her agricultural activities was non-existent.
Similarly, failed crops forced 15-year-old Nejuma's family into a cruel situation that affected her future.
"I dropped out of my education because of the lack of food, educational material, and clothes. I had to support my mother with some house chores because my father went in search of daily labour," she says.
Across Jarso district, where Nejuma and Iftu live, 79,000 people (57% of the total population) are in need of humanitarian assistance due to successive crop failure. A total of 1,137 children dropped out of school while 1,962 (516 children and 1446 mothers) are malnourished according to Tesfaye Tafesse, Jarso's District Agriculture Bureau Extension Team Leader.
To respond to the needs, World Vision is taking action.
World Vision provided emergency seed to drought affected families three months ago in order to ensure household food security. A total of 30,200 kg maize seeds and 21,000 kg potato seeds were provided to 4,832 families.
"The seed provision is paying off. Thousands of poor families affected by the drought have been able to improve their livelihoods and restart their agricultural activities," says Getenew Zewdu World Vision Ethiopia's HEA Manager.
Iftu's family were one of the beneficiaries. She received 200 kg of maize and potato seed from World Vision's emergency seed support.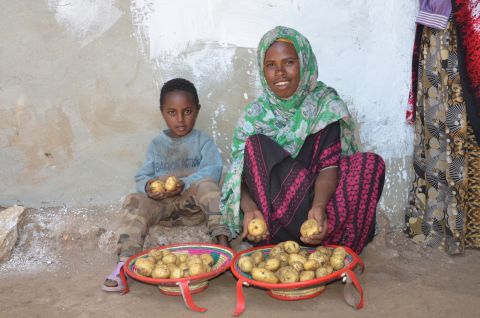 "Now the potato is ready for harvest and I expect to yield 1,200 kgs. I will feed my children and sell off the remaining supplies. I have a plan to engage in a small business," Iftu explains with renewed hope.
"Now I am very happy because World Vision's emergency seed support enabled me feed my children. The bad has gone and I see a better tomorrow for my children," Iftu adds.
Nejuma's family also received maize seeds are will soon harvest.
"Thanks to World Vision, now I can feed my children. I will sell part of it to buy educational materials and clothes for my children. I will send my daughter to school shortly in the new academic year," says Nejuma's father Jemal.
Nejuma will return to start Grade 6.
"Now I can continue my education because there will not be food shortage or lack of educational material," Nejuma says with confidence.
World Vision Ethiopia is continuing to respond to the drought affected area by providing nutrition support, water and sanitation, health, education and livelihood/food security projects. So far, the organization's drought response has reached over one million people in Oromia, SNNPR, and Somali regions.