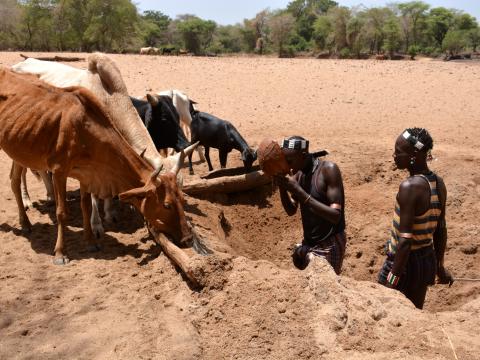 The new woes of Ethiopian pastoralists
Wednesday, March 15, 2017
According to UNICEF Ethiopia's February 2017, Humanitarian situation report, over 5.6 million people are in critical need of emergency water, health and nutrition services across the country. This is due to a negative Indian Ocean Dipole (IOD) which resulted in below average rainfall over East Africa. The humanitarian situation continues to deteriorate and more than 4.2 million people (75% of this figure) from pastoral communities in Somali, Oromia and SNNP regions are targeted to receive food aid in 2017.  
Bena Tsemay, a district situated 750 km South West of the capital Addis Ababa is one of the most affected pastoral areas in South Omo Zone of the SNNP Region. Usually, this area is known for its livestock resources and it accounts for over 465,000 livestock heads. Of this figure, 60 percent are now severely affected due to lack of fodder and water. Thousands of cattle have died over the last month.
29-year-old Roro Gulo who lives in Sile village of the Bena Tsemay district had 12 cows but this number has declined to only three cows. "I lost five cows and three calves within one month. After a few more hours or days, this will be the sixth to die. The fate of the remaining few is dire as they will be gone too sooner or later," Roro explains desperately.
When people like Roro take their oxen or cows to the market for sale, nobody dares to buy them as they are skinny and very weak due to the lack of food and water. The price of livestock has also fallen drastically. "I had 56 cows and 35 calves, but now only 14 cows and 4 calves left. Losing one cow or calf a day is becoming normal. I just lost one cow yesterday. Vultures and dogs do not even eat the carcases let alone dare to sell them. Shewiki Boto, 50 and a father of 8 explains with sorrow.
In some parts of the district, the fear of an anthrax outbreak is imminent although 25,000 livestock have been vaccinated to contain the spread of the disease. So far, 74 people have contracted anthrax with successful treatment and have been cured.   
Amid this dire situation, people are struggling to save the lives of their cattle by driving to distant places with water and pasture. "I had 60 cattle, most died and few left. The problem is critical. Before we would water our cattle from ponds and streams nearby, but now they have all dried up forcing us to travel for days in search of water and pasture. We are watering our animals by digging this wet sand. For sure this will run out and together with our cattle we might perish unless we get a real intervention and solution,"  says Qoxa Udo as he waters his sheep and cattle by digging deep the dried up river side.  
The humanitarian requirement document released by the government and its partners indicated 9.1 million people will need WASH support, and 1.9 households will need livestock support.  
The government in coordination with partners is providing water through trucking and fodder for the drought-stricken people. However, this not addressing the main problem adequately as the number of people in need is increasing continuously, thus exceeding the aid being provided.
Thousands of livestock have died and are more continue to die since the drought breakout across the country. In some villages of Bena Tsemay district carcases of dead animals are seen scattered all over while others faint and later die. "8,900 deaths have been reported in Bena Tsemay district in the last one month. If this situation continues and no immediate measure is taken, it is likely that not a single livestock will survive," warns Tesfaye Taye, Disaster Prevention and Early Warning Coordinator of Bena Tsemay District.