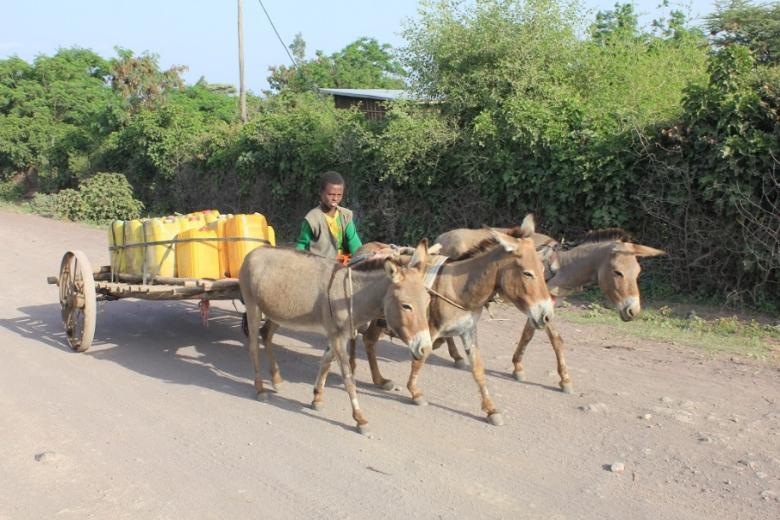 Rainwater harvesting from the road
Thursday, June 2, 2016
The most serious challenge facing farmers in semi-arid Ethiopia is how to capture, store and make efficient use of the little rainfall that comes.
The Drylands Development programme, with funding from the Dutch government and from World Vision Australia, is addressing this in various ways – but perhaps the simplest approach is by merely diverting run-off water.
Mr Galan beside his newly installed rainwater tank with a channel feeding runoff water from the track
Mr Girma Galan, teff and haricot bean producer from Boset woreda in Oromia region, worked with project staff to install a 60 m3 (or 60,000 L) concrete-lined ring tank. The underground tank is fed by a channel that collects and diverts run-off water from the nearby track.
"The stored water is enough to water my garden and orchard for up to 4 months beyond the end of the rainy season," he said. His orchard is now a thriving sprawl of fruit trees – mango, guava, ziziphus, citrus – and other specialty trees including moringa, grevillea, and coffee. He plans to take the fruit to the nearby Adama market for sale, allowing him to fully cover his children's education.
The lack of water is tangible in the community. Donkeys and carts ferry around water using jerry cans filled at the local well for a fee. "Previously, I didn't have enough water for my orchard, and I had only a few trees and barely any fruit…now I will be able to take more to market."
The programme especially wants to focus on approaches that can be readily scaled up. Mr Galan's structure was covered by the programme to demonstrate the approach to the community. The installation cost 25,000 birr (approx. USD 1,250) which included the building contractor and all materials.
Having seen the simple design and the benefits, locals became convinced they could build it themselves: a local contractor now charges just 3,000 birr (USD 150) per unit for building supplies, the reduced price a result of labour given by the household and their provision of locally available raw material, with the government providing quality control.
As a result, the final product can be readily scaled up throughout wider portions of the community. "I now have a water bank," Mr Girma proudly says.