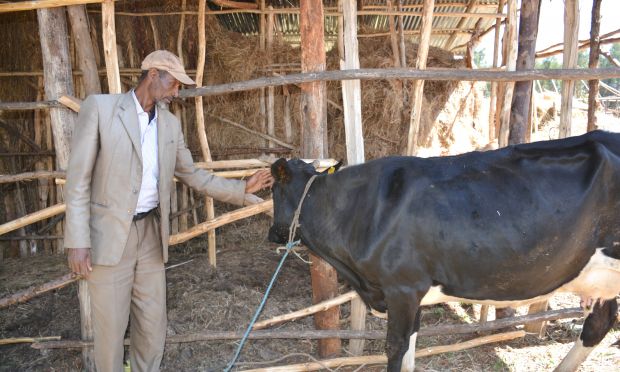 "We used to take loans from money lenders with high-interest rate and it was difficult for us to pay back the loan. We are now able to save money in our saving association, taking loans and even get interest from our savings. We buy seeds and open businesses with the money we saved and borrowed from the association. We are very happy," says Lema Dhaba.
Lema Dhaba, a father of four, lives in Adaberga district some 60 km from Addis Ababa. It has been three years since Lema joined the saving association in the area. Agriculture and animal rearing is a means of living for Lema and his families.
"I did not have a saving habit I used to consume all the money I get within some days. My saving culture was so poor. In the saving association, World Vision Ethiopia facilitated short-term training for us on saving and entrepreneurship. It has helped me a lot to improve my saving culture."
The saving association in Adaberga AP was established at the end of 2014. It has now 25 members. The saving association was established with the objective of improving the saving culture of the community and build the financial capacity of the community.
In the first phase, the members of the association were able to save 16,000 birr and share the money. Now they have 26, 000 birr saved in the bank. Some of the members started small businesses, some others bought seeds and others started animal rearing.
"I used to buy animal fodder with 800 birr for my cattle. It gets wet in the rainy season and I did not have anything to feed my cattle. Now I built a storage house for animal fodder with the money I got from the saving association. I have now 18 cattle. I get more than 300 birr a day from the milk I sell. I have now 14, 000 birr in the bank," proudly said Lema. "Not only had that" Lema continued, "One of my daughters used to travel 5 km to go to school. I had a fear that she might face some kind of danger. But now after my financial capacity has improved, I rent a house near her school. I am also able to provide my other children needs and all their school expenses".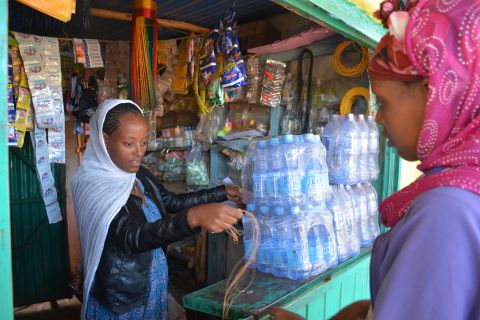 Zelalem Assefa, 26, is the other member of the saving association. Zelalem was in Arab countries in search of a better life. "I returned back from Arab countries and started a small business but it was not profitable because I did not have a good saving habit. Then I took different kinds of training on entrepreneurship and saving in the association. It has helped me a lot to know the benefit of saving and improve my saving habit. I save 50 birr every week. I got 900 birr in the first phase of sharing and bought some goods for my shop. In the future, I have plan to expand my shop."
Nunu Girma, 34 is a mother of four children. Nunu is also a member of the saving association. Nunu makes a living by selling local drinks at the center of the local market. "I had the interest to do small business but I did not have means of capital. As a result, I used to earn 100 birr a month, with which I cannot even feed my children. After I joined the saving association I took 1000 birr loan and expand my business. Now I am earning more than 600 birr a month. I am able to feed my children and send them to school covering all their school materials. My house was too old now I rebuild my house. In the future I have plan to expand my business more than this and run a better business firm," happily said Nunu.
Members of the association are able to improve their saving habit, take a loan and invest on well-studied business. The financial status of households has also improved.