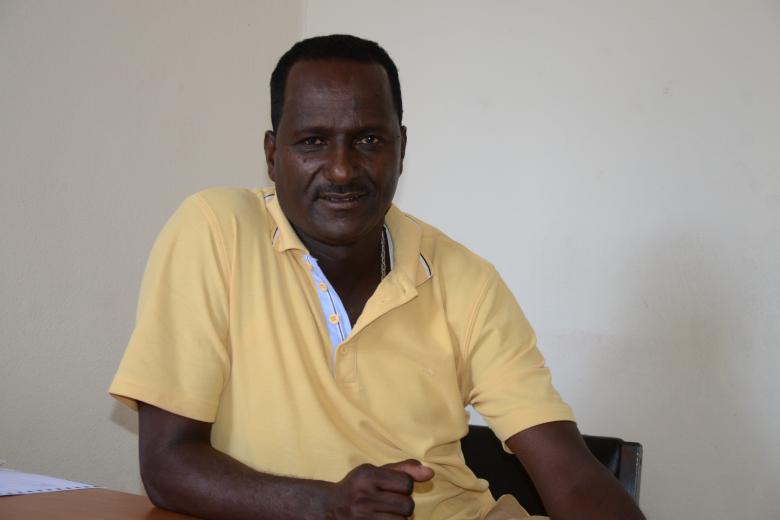 Staff Christian witness yields three fold harvests
Wednesday, November 11, 2015
Shambel Tike, 40 years old, was a drunkard and trouble maker. When drunk, he would fight with anyone on his way home. He would beat his wife and clash with his family and as a result of this there was always shouting and screaming at their house. His behaviour, soon gave him a local nickname - the 'screaming house'.
"My spirit did not lead me to think of work let alone farm. It rather pushed me to visit a local bar for alcoholic drinking. The most disgusting time in my life was not getting enough food for the day, but not having enough coins for drinking," says Shambel.
One day, he was introduced to Girmay Tekle, the previous Boset area development programme manager at WV Ethiopia. Girmay saw him and helped him home as he was very much intoxicated, staggering and falling as he tried to walk. The next day, Girmay walked to his home and advised Shambel of all the consequences of alcoholic drinks, which led Girmay to pray and witness to him.
Soon after, Shambel was encouraged to take a training on drip irrigation, raw planting and was provided seeds from World Vision. "I applied all the skills that I acquired through training on my farmland. Girmay was also visiting and giving me a word of encouragement. To my surprise, I collected three folds of my previous harvest in the year I took the training," he gladly explains.
The harvest encouraged him so much and helped him to work harder than ever. In the next harvesting season, he constructed a water harvesting structure with the help of World Vision and began producing various kinds of cash crops including tomatoes, cabbages and onion three times a year. He collected plenty of harvest than expected. "Those who used to know me as a drunkard now saw how God was blessing me. They began to say we will worship the God of Shambel who took him out of a shamed life and blessed him with a bountiful harvest. A number of people, including my parents and siblings accepted Jesus Christ as their saviour after seeing the changes in my life," says Shambel.
 To date Shambel's life has been transformed both financially and spiritually. Financially he has two big trucks that he does business with. He earns more than $350 a day. He has also constructed a modern villa house which cost more than $100,000. He has a dream to open one big international hotel in Addis Ababa.
"Real transformation comes whenever we are able to touch both the spiritual and physical needs of people. If we had provided Shambel only his physical needs, given his drunkard behaviour, he might have wasted the money drinking. Addressing people holistically can change people's attitude and make a difference in their life," Girmay explains.