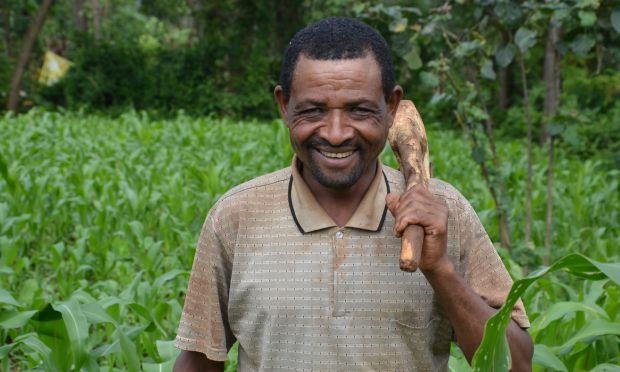 Esayas Didana, 45, married and with three children lives in Omo Sheleko District some 340km southwest of Addis Ababa at Boye kebele. As a farmer, he produces coffee, teff, sorghum and haricot bean over his half a hectare of farmland twice a year through rain-fed agriculture.
Before 2015, the production he used to collect was adequately covering his family needs and his family was more or less leading a good life. Yet in 2015 both the long and the short rainy seasons disappeared one after the other leaving more than10, 000 population around the area to critical food shortages.
Esayas had no food at his store when the food crisis occurred. He passed the first month of the food crisis receiving some help from his relatives. But later, the intensity of the food crisis widened its scope and reached the entire place of his village and there was no one to give him a hand. He reached to the point where he was not able to feed his children once a day.
Esayas had one ox where he used to pair with someone to plow his farmland. Instead of seeing his children die of the food crisis, he decided to sell the ox and purchase some food staff for his family. While selling his ox in the market, pickpockets were following his activities. In the crowd of the market, the pickpockets carefully cut his pocket with a blade and took away all the money he earned from the ox sale. "The challenge I experienced was so painful. I entirely hated my very existence and thought of committing suicide. Yet when I recalled of my wife who is with sight impairment, I said to myself if I committed suicide, my children would be without a helper and would join street. And I refrained myself from doing harm," he sadly recalls.
Esayas began making charcoal traveling a long distance to support his children. And yet he was not successful on this business because he got sick of gastric and ameba. When he learnt that he could not make anything to feed his children, he told all of his children (7, 9 and 11 years old) to earn their bread by carrying goods from market to home for people and run errand.
Getting works for his kids was not an easy task as there were so many other children older than them engaged in similar activities. Most of the time, they were returning home empty hand at the end of the day. "There were days that we ate once in two days' time. There were also days where we had to pass the night only eating raw sugar cane," recalled Esayas in a heavy heart.
In response to this challenge, World Vision Ethiopia in collaboration with Joint Emergency Operation Program (JEOP) began to support the drought affected people in the area. JEOP in Ethiopia is a program implemented by a consortium of NGOs where World Vision is a member. The program is being implemented with the aim of responding to the emergency food needs of the targeted beneficiaries vulnerable to the transitory food gaps.
World Vision has been working together with JEOP partners and implemented the program in 15 woredas of Southern Nations Nationalities and people region (SNNPR) and 2 districts of Oromia region since August 2012 and addressed about 613,000 ( Male = 323,717 and Female = 289,283) vulnerable people with general food aid.
Esayas was one of the beneficiaries of this project. He and his family have been receiving food and oil support continuously for six round. His children are now back to school. Their health condition has improved greatly. "World Vision has really saved my family from the verge of death and sowed a seed of hope in our life. God bless World Vision."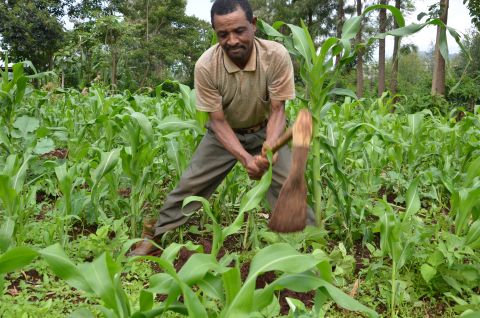 The season at the village of Esayas seems promising though it started late. Esayas has sowed corn, haricot bean as usual and taking caring of them very well. If the rain continues raining this way, everything would be fine. Otherwise, the season is volatile and may change anytime.