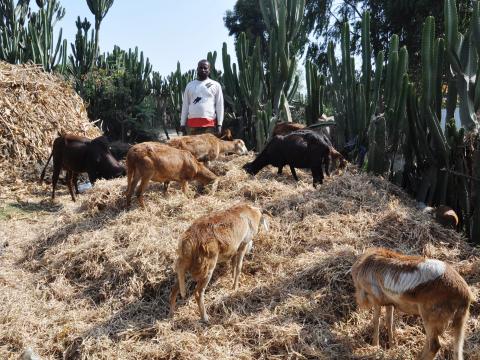 From bare subsistence to self-sufficiency
Ahmed Teshite, 38, with seven children, lives in Halelu Elu village of Shasheme District. Ahmed lives on subsistence farming. Because of limited farmland and lack of finance for purchasing fertilizers, he used to collect only two hundred kilograms of cereal crops on annual bases. "This was by far too difficult for me to feed my large family. So I had to supplement income by working as daily laborer. Despite this, I was not able to properly feed my family through the income that I was earning from those sources," sadly recalls Ahmed.
Ahmed's house was very obsolete and unwelcome. He and his family were living in one roomed grass covered hat. They ate, cooked and slept in the same room. On top of that, they used to share that same room with their sheep at night.
Three years ago, World Vision sponsored one of his daughters and provided him with improved two sheep of high yielding for rearing and improved teff seeds that could yield much production on a small piece of farmland. Ahmed carefully sowed the seed and took care of his growing grains. At harvesting time, he collected twofold of his previous production. On the next season, he contracted more farmland and planted various crops. He collected six folds production of the previous years.
"A couple of years before, I was not able to feed my family three times a day. Providing writing materials and clothes for my children was a big challenge. My single roomed hat was leaking and the wall had holes everywhere. We were sharing the room with our sheep," sadly recalls Ahmed. "But today, World Vision's improved seed support has made me self-sufficient. I am adequately feeding my family and sending them to school. I have constructed a two roomed house. We have now a separate house for cooking our food and keeping our cattle. My family is leading a happy life," happily explains Ahmed.
Ahmed has bought a milk cow for his family and they are benefiting from the milk. He has also multiplied the sheep that he received from World Vision. "The sheep are helping me a lot. Whenever my children need writing materials and school uniforms or get sick, I will not knock the doors of local money lenders or beg a friend or relatives to lend me for some cash as I used to do before. Instead, I will sell one of the sheep and purchase the necessary things my children needs," happily explains Ahmed.