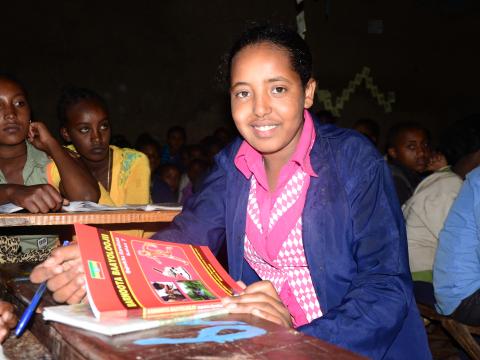 Dowry returned, dream restored
Early marriage is half-done assignment in rural areas of Ethiopia. Community's awareness about early marriage is considerably very low. Influenced by cultural practices, parents are still marrying off their immature little girls to men who are twice older than them. Some others are marrying off their little daughters to similar age groups but who are not old enough to lead marriages.
Goro, located 490km south east of the capital, Addis Ababa, was one of the areas where early marriage is comprehensively practiced. According to Getachew Tolossa, Goro District Women and Children Expert, more than 45% of the marriage conducted every year was early marriage.
World Vision in collaboration with the local government has begun implementing Harmful Traditional Practice (HTP) project as of 2011. It provided training of trainers to the District's Women and Children, Police and Justice offices' staff. The trained staff rolled out the training to community and schools.
Zebenay Tesfa, 15, was forced and signed to be married off to an adult man seven months before World Vision's HTP training. "There was no stone that I did not turn to terminate the marriage, but my parents refused and forced me to sign the marriage consent and arranged everything for the wedding ceremony," she miserably recalls.
Two months before the wedding day, World Vision provided training on early marriage and other HTP to school community including Zebenay. "In the training, I heard the trainer saying a girl has a right to say no to a marriage request if she is unwilling to get married and under 18. I also heard him saying parents who are forcing a girl to get married without a girl's consent are violating her right to education. When I heard this, I could not believe my ears. I cried out of happiness in the training room," she happily recollects.
After the training, Zebenay told her arranged marriage story to her home teacher who took the training with her. And the teacher called World Vision staff and shared the idea. A team composed of World Vision and the District Women and Children office cautioned Zebenay's parents or face legal action otherwise. "Immediately after the team left our house, dowry returned, marriage terminated and I am now happily attending school," she happily explains.
Zebenay is now in grade 8 and attending her class with excitement. She has a dream to be a nurse. She says, "I do not have words to express my profound excitement to World Vision. Had it not been for World Vision's training, I would have got married and be the mother of a child. My dream of becoming a nurse would have been aborted."
A remarkable change has been observed after HTP training is provided. People who used to marry off their little daughters at their early age without asking their consent have now begun to regret.