In recent interview with the Reuters director for the emergency division at the U.N. Food and Agriculture Organization, Dominique Burgeon, said 102 million people faced acute malnutrition globally due to deepening crisis, particularly in Yemen, South Sudan, Nigeria and Somalia, where conflict and drought have crippled food production.
In Ethiopia millions of drought-stricken people who need food, water and emergency medical care are not receiving it due to funding shortages Reuters quoted the United Nations as saying in March 2017.
According to UNOCHA the needs relating to the developing emergency in Ethiopia exceed resources available to date indicating the need to immediate humanitarian response to the situation.
Treating children who are moderately malnourished is three times cheaper than severely malnourished.
According to UNICEF Ethiopia's February 2017 humanitarian situation report 303,000 children are expected to require treatment for SAM, while
2 million school-aged children require emergency school feeding and learning materials assistance in 2017.
One such drought stricken area is Shashemene district of the West Arsi Zone in Oromia region which is located some 250 km south of the capital Addis Ababa. 19 percent of pregnant and lactating mothers in the district are reported moderate acute malnutrition, whereas 427 children severely malnourished and are being treated as outpatient.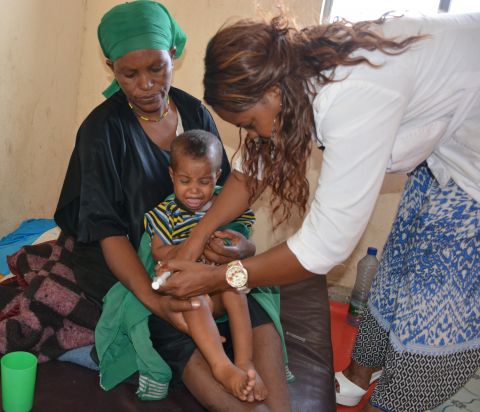 Gelgele Hirpho, 32 and a mother of six children resides in Chebbi Dedegnate village in Shashemene district. Her two and half years-old-baby, Semira Hirppo, was admitted to Chebbi Dedegnate Health Center five days ago. "Semira was very weak and her body was swollen when I brought her to this health center. I didn't have money for her medication. I was crying desperately losing hope," Gelgele explains.
Every week, we admit up to 10 severely malnourished children to this health center. Technically speaking Semira's status was 'edema +++' which is an abnormal weight gain and swelling of a child's body part due to severe malnutrition says Yabi-Kibra Ayalew a health worker at Chebbi Dedegnate Health Center who follows up Semira.
The situation is also worsening in other parts of Oromia. In Goro, another district in Bale Zone of the Oromia region where crop failed for three consecutive years due to rain failure for three consecutive years people are migrating to neighboring areas in search of daily labor to survive and pasture for cattle. "Women and girls travel up to 20 km to fetch water or buy a jerry can of water for 12 birr. As a women's Affairs representative yesterday I visited nine lactating mothers and all were severely malnourished. Children are forced to drop education due to lack of food and searching for water," explains Aysha Haji Jundi, 37 and mother of 10 who lives in Bilia Kiya village of Goro district.
Diseases related to malnutrition and water shortage are escalating. 428 people have been reported contracted acute watery diarrhea in Goro district. Fozia Alo is a clinical nurse at Melka Bufa Health Center's Emergency Acute Watery Diarrhea Control Center coordinated by unicef and others. "Many people are admitted on daily basis since October 2016. Three people discharged yesterday and now we are treating 12 people (10 adults and 2 children) are receiving treatment," Fozia explains.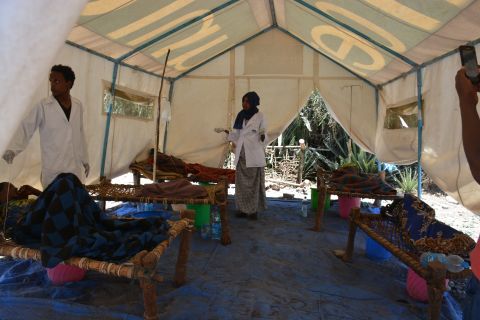 Mahamud Hussein, 47 and a father of 14 was once a model farmer/best performing is now relying on food aid from the government. "We have no food to feed ourselves and our children and our livestock. We have meal once in a day and even no sometimes. Four of my children dropped their education because I couldn't manage to feed them. I sold out many of my cows to buy food. Now the price of cattle falls drastically and even nobody dares to buy. 100 kg of teff is 1700 birr but a cow is sold at 500. The government is providing food aid but not enough," Hussein says.
The monthly screened data for the month of February 2017 of under-five children, pregnant women, and lactating mothers in Shahemene district indicated that there is rapidly increasing trend in malnutrition of children, pregnant and lactating mothers due to food shortage.
This time is a Belg rain season, but there is no rain. The failure of the belg rain exacerbated the situation resulting in critical water shortage, health problem, and malnutrition both in the town and rural areas of the district. "There is no fodder for animals. There is critical water shortage in 11 kebeles of the district. The lack of water is feared to trigger diarrhea outbreak. Unless there is a timely response the situation will turn into catastrophe," warns Shune Eda'o, Head of Shashemene district Disaster Risk Management.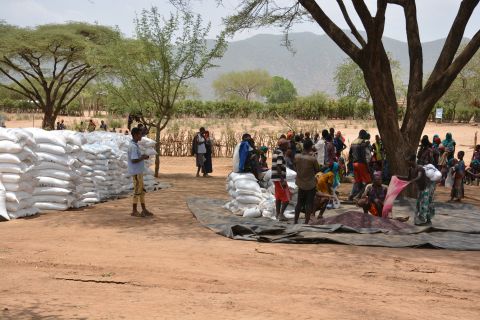 The government of Ethiopia in partner with donors is providing food aid and water by truck. However, the food aid and the water provided is not enough as the number of people in need exceed the supply by far says Endale Teshome, Boset ADP manager in Oromia Region. "We should respond to the situation urgently if not we may lose many lives," he adds.