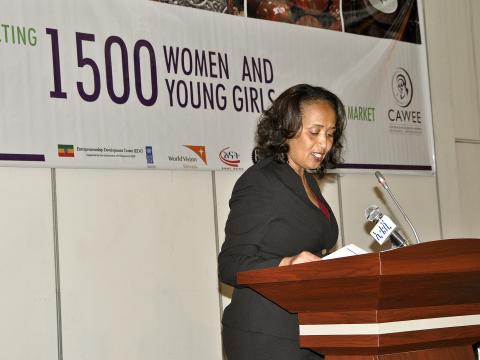 Keynote Address by Worknesh Mekonnen, World Vision Deputy National Director at "Connecting 1500 women and Young girls to the export market" project Launch, Prime Minister's Office, Addis Ababa, February17, 2014
Her Excellency First Lady, Wro Roman Tesfaye
Distinguished officials invited guests, ladies and gentlemen. 
It is a great privilege and honor for World Vision to be taking part on the occasion of the launching of the "Connecting 1500 Women and Young Girls to the Export Market Project".  World Vision from its first emergency intervention in 1971 consistently worked hand in hand with all its key partners and stakeholders fighting against poverty and particularly working for the poor communities mainly focusing on wellbeing of children.
Today we are in all regions of the country except for Gambella and Afar and we are in over 100 Woerdas working in diversified sectoral interventions with annual funding portfolio of over $85M.
World Vision Ethiopia has a very ambitious strategy with the goal of reaching over 3.5million children by 2015 through direct and indirect interventions. Our strategic focus areas are very much informed by the Growth and Transformation Plan and the respective sector strategies of the country.  To give brief highlight our sectoral ambition encompasses market lead and nutrition focused agricultural productivity, improved access to skilled health delivery services, economic empowerment with specific focus on women and youth through creating market linkage of local value chain, promoting saving culture through mobilizing saving groups, scaling up of our climate change best practices and education quality through adopting innovative methods such as literacy boost, economic literacy and increasing investment and focus on our Water and Sanitation and Hygiene including institutions during our current strategic period. Most of these interventions are built on significant milestones of our programmes in Ethiopia for past many years. World Vision's contribution at grassroots can bear witness of impact we have made in creating access to education and health services through construction of schools and health centers, small to large scale successful irrigation projects significantly boosting agricultural productivity and ensuring food security and economic empowerment of smallholder farmers. Our pioneer climate change project, such as Humboo, of reforestation and energy saving cook stoves, that gave the country the recognition to be the 1st in Africa to secure certification and earning carbon income for communities. Our massive WASH intervention which transformed poor communities' access to clean water and contributed significantly to the reduction of waterborne diseases and improved sanitation practices.
Though we are determined to continue raising the bar to achieve the goals of our ambitious strategy, we are cognizant that, from our experience in the past, that none of these desires will be realized without strong collaboration with government and the concerted effort of development partners across the different realm. We strongly believe that intentional partnership and networking plays vital role in speeding our effort towards sustainable development. It is therefore; with this ambit that we were very much excited to endorse the partnership invitation to jointly pioneer the realization of such innovative initiative of the 1st Lady Office. World Vision strongly believes mothers play pivotal role in wellbeing of children.  While we focus on economic empowerment of our target communities at large we give special emphasis to economic empowerment of women and girls at all levels.  With this I want to say that we are very much honored, again, to take part on this project and committed for the successful achievement of its goals.
God bless you all!
Thank your Excellency.